The Box of Delights is a TV mini-series directed by Renny Rye, starring Devin Stanfield, Patrick Troughton, Robert Stephens, Geoffrey Larder, Jonathan Stevens, Joanna Dukes, Heidi Burton, and Flora Page. It was adapted from the children's fantasy novel of the same name by John Masefield, and broadcast as six 30-minute episodes on BBC.
Synopsis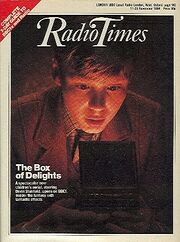 Kay Harker is returning from boarding school when he finds himself mixed up in a battle to possess a magical box. It allows the owner to shrink in size, to fly swiftly, to go into the past and to experience the magical wonders contained within the box.
The current owner of the box is an old Punch and Judy man called Cole Hawlings whom Kay meets at the railway station. They develop an instant rapport which leads Cole to confide that he is being chased by a man called Abner Brown and his gang. For safety, Cole entrusts the box to Kay. The schoolboy then goes on to have many adventures as he protects the box from those who wish to use it for bad deeds.
Cast
Kay Harker- Devin Stanfield
Cole Hawlings- Patrick Troughton
Abner Brown- 
Availability