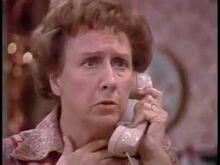 "The Bunkers Go West" is the sixth Christmas episode of the CBS sitcom All in the Family, aired in the show's ninth and final season.
Synopsis
The Bunkers are eagerly looking forward to the return of the Stivics to celebrate Christmas. However, they are forced to make a last minute change of plans when Edith receives a call from Gloria explaining that they won't be able to travel due to Mike's back going out.
See also
Community content is available under
CC-BY-SA
unless otherwise noted.