Jurassic World: Dominion Dominates Fandom Wikis - The Loop
Play Sound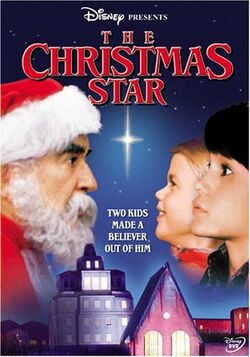 The Christmas Star is a 1986 ABC Christmas movie, originally broadcast as an episode of The Disney Sunday Movie on December 14, 1986.
Summary
This page about a Christmas special or an episode from a television series with a Christmas theme is in need of a longer synopsis. You can help the Christmas Special Wiki by expanding this synopsis.
Horace McNickle is a two-time felon serving prison time for counterfeiting. On the week before Christmas, he escapes from prison dressed as Santa Claus due to his uncanny resemblance to Santa resulting from his long white beard and heavyset features. He hides out from the police in a nearby suburban neighborhood where he is befriended and helped by two local children who think he is the real Santa. He takes advantage of their naivete to help him get his counterfeit money hidden somewhere in a local department store while he develops kind-hearted feelings for his two con victims that make him slowly understand the true nature of Christmas.
Cast
Actor/actress
Character
Ed Asner
Horace McNickle
Rene Auberjonois
Sumner
Jim Metzler
Stuart Jameson
Susan Tyrrell
Sara
Karen Landry
Clara Jameson
Alan North
Captain Whittaker
Philip Bruns
Lucky
Nicholas Van Burek
Billy Jameson
Vicki Wauchope
Trudy Jameson
Zachary Ansley
John
Fred Gwynne
Waters
Peter Bibby
Jeremy
Lillian Carlson
Mrs. Thurgood
David Glyn-Jones
Night Watchman
Anthony Holland
Old Con
Frank C. Turner
Sad Sack Santa
Claire Brown
Mrs. Jerome
Renee D'Aoust
Oliver Kearnes
Robyn Stevan
Waters Kids
Linda Darlow
Warrington Mom
Lorraine Foreman
Mrs. Waters
Joseph Golland
Janitor
Russell Hunter
Old McNickle
David Longworth
Gordon McIntosh
Cons
Pamela Martin
Newscaster
John Payne
Mr. Jerome
Enid Saunders
Salvation Army Lady
Raimund Stamm
Warrington Santa
Roman Podhora
Barney
Don Thompson
Janitor
Jerry Wasserman
Desk Sergeant
Sid Williams
Brother Gerard
John Bolton
Boy with Viola
Monica Fuhrmann
Genesee Keevil
Tiffany Michas
Toko Okada
Nicole Roberts
Brittany Wong
Children
William Tayllor
Gate Guard
Drew Monroe
Son
John Molnar (uncredited)
Coffee Vendor
External links