The Christmas Toy is an Emmy Award-nominated Christmas special produced by The Jim Henson Company, originally aired on ABC on December 6, 1986. It spawned the 1994 spin-off series The Secret Life of Toys.
Synopsis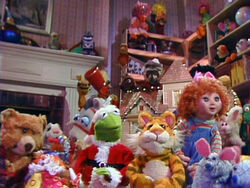 This page about a Christmas special or an episode from a television series with a Christmas theme is in need of a longer synopsis. You can help the Christmas Special Wiki by expanding this synopsis.
In this one-hour Christmas special, Christmas Eve is celebrated at the Jones' house, where the toys in the children's playroom magically come to life when people are not around. But since a toy will be frozen forever if a person catches it out of position, they have to be very careful.
Following an introduction by Kermit the Frog, who provides a glimpse into the Jones' house as they make holiday preparations, the toys talk about the meaning of Christmas and how they will prepare to welcome the new toys that will be given to the Jones children, Jamie and Jesse. Rugby the Tiger, who was Jamie's Christmas present the year before, remembers that special day, and decides to find a way into a gift box under the tree again this year, as he does not want to be replaced as Jamie's favorite. However, he does not stop to think that if she unwrapped him again this year, she would see him out of his normal place where she usually puts him and he would be frozen forever.
Apple the Doll, whom Rugby supplanted as Jamie's favorite, tries to tell him what will happen if he does this. But he will not believe her, and he tries to get into the gift box, letting Meteora, Queen of the Asteroids loose. Unfortunately, she does not know that she is a toy and thinks that she has landed among aliens. It is up to Apple, Mew (the cat's toy mouse), and the other toys to get Rugby out of the box and Meteora back in it before they are found and frozen forever.
Songs
Home video releases
US releases
International releases
Edits
When originally aired on ABC, Kraft is presenter/sponsor of this special with the credit "Kraft presents". In subsequant airings, the credit is completely omitted.
When the special was released on VHS in 1993, the opening sequence (before the main titles) was cut.
When HIT Entertainment released the special on DVD in 2008, Kermit's scenes were cut, due to The Muppets franchise having been acquired by the Walt Disney Company in 2004. That version is also applied to the Hub Network airings and on Netflix streaming.
Cast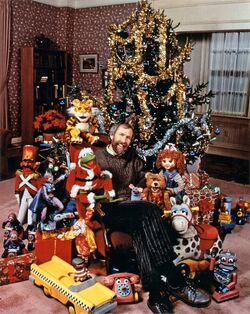 Gallery
External links
Community content is available under
CC-BY-SA
unless otherwise noted.