"The First Christmas" is a Christmas episode of the animated series Superbook.
Synopsis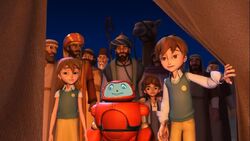 At Christmas Eve, when Chris Quantum thinks that the holiday of Christmas time is just about getting presents, Joy Pepper, and Gizmo are taken to the story of the birth of Jesus by His parents, Mary and Joseph, and witness the shepherds arriving at the manger and the three wise men from the East coming to greet the new King with gifts. Chris then learns that Christmas isn't about getting. Instead, it is about giving and what God gave to the world: His only Son.
This page about a Christmas special or an episode from a television series with a Christmas theme is a stub. Please help the Christmas Special Wiki by expanding this article.