Wiki Targeted (Entertainment)
Play Sound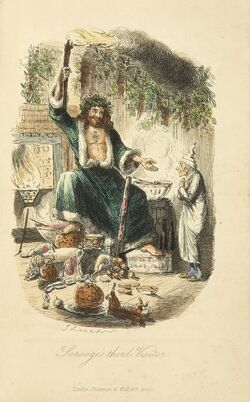 "
Come and know me better, Man!
"

— The Ghost, making Scrooge an offer on several levels
The Ghost of Christmas Present is a character from A Christmas Carol, one of the best-known works of the English novelist Charles Dickens. He closely resembles Father Christmas from local folklore.
Role in the story
The Ghost of Christmas Present is the second of the three spirits (after the visitation by Jacob Marley) that haunted the miser Ebenezer Scrooge in order to prompt him to repent. According to Dickens' novel, the spirit appears to Scrooge as "a jolly giant" with dark brown curls. He wears a fur-lined green robe and on his head a holly wreath set with shining icicles. He carries a large torch, made to resemble a cornucopia, and appears accompanied by a great feast. He states that he has had "more than eighteen hundred" brothers (in fact eighteen hundred and forty two) and later reveals the ability to change his size to fit into any space. He also has a scabbard with no sword in it, a representation of peace on Earth.
The spirit transports Scrooge around the city, showing him scenes of festivity and also deprivation that were happening as they watched, sprinkling a little warmth from his torch as he travels. Amongst the visits are Scrooge's nephew, Fred and the family of his clerk, Bob Cratchit. The spirit also shares a vision of Tiny Tim's crutch, carefully preserved by the fireplace. Scrooge asks if Tim will die. The spirit first states that "If these shadows remain unaltered by the Future, the child will die" (i.e., Tim's illness is not inherently fatal, but the Cratchits lack the funds for Tim to receive proper treatment, courtesy of Scrooge's miserliness), then – quick to use Scrooge's past unkind comments toward two charitable solicitors against him – suggests he "had better do it, and decrease the surplus population." Scrooge is disgusted at his own words and is concerned for Tiny Tim and his family.
The spirit finally reveals to Scrooge two emaciated children, subhuman in appearance and loathsome to behold, clinging to his robes, and names the boy as Ignorance and the girl as Want. The spirit warns Scrooge, "Beware them both, and all of their degree, but most of all beware this boy, for on his brow I see that written which is Doom, unless the writing be erased.", underscoring the book's social message. The spirit once again quotes Scrooge, who asks if the grotesque children have "no refuge, no resource," and the spirit retorts with Scrooge's same words, "Are there no prisons, no workhouses?", filling Scrooge with self-loathing.
The spirit, having already aged, reveals that he will only exist on Earth for a single year's Christmas holiday. (As the nature of the present is to only exist in the now, this is why this ghost can only exist for one Christmas, and why he has 1842 brothers. Note the year that Charles Dickens' story was published. This would be the 1843rd Ghost of Christmas Present.) He finally disappears at the stroke of midnight on Twelfth Night, and leaves Scrooge to face the Ghost of Christmas Yet to Come.
Portrayals
Picture
Performer
Production
Year
Notes

Voiced by
Les Tremayne
Mister Magoo's Christmas Carol
1962
In this adaptation, the spirit appears before the Ghost of Christmas Past.

Famous Classic Tales: A Christmas Carol
1969

Voiced by
Paul Frees
The Stingiest Man in Town
1978

Willie Fadiddlehoffer
(voiced by Will Ryan)
Mickey's Christmas Carol
1983

Edward Woodward
A Christmas Carol
1984
The spirit greatly resembles the illustrations in the Dickens version.

The Jetsons: "A Jetsons Christmas Carol"
1985
The spirit is represented as a Christmas present.

Robbie Coltrane
Blackadder's Christmas Carol
1988
Ebenezer Blackadder is visited by "The Spirit of Christmas", who bears a close resemblance to the Ghost of Christmas Present of Dickens' story.

Carol Kane
Scrooged
1988
The spirit was a shrill woman-like fairy.

Theodore Seville
(voiced by Janice Karman)
Alvin and the Chipmunks: "Merry Christmas, Mr. Carroll"
1989

Mr. Smee
(voiced by Ed Gilbert)
Peter Pan and the Pirates: "Hook's Christmas"
1990

Jerry Nelson
The Muppet Christmas Carol
1992
The Muppet portraying the spirit greatly resembles Dickens' version; however, the vile forms of Ignorance and Want are absent, most likely to make the film more suitable for children.

Dot Warner
(voiced by Tress MacNeille)
Animaniacs: "A Christmas Plotz"
1993

Marlon the Penguin
(voiced by Mike McShane)
Avenger Penguins: "A Christmas Carol"
1994

Ernie
(voiced by Brian Cummings)
A Flintstones' Christmas Carol
1994

Rolly
(voiced by Kath Soucie)
101 Dalmatians: "A Christmas Cruella"
1997
David Van Driessen (voiced by Mike Judge)
A Beavis and Butt-head Christmas
1995
David Van Driessen plays the role of the Spirit of Christmas Present and appears while Beavis is trying to watch a Christmas Carol style porno.

Sasha
(voiced by Sheena Easton)
An All Dogs Christmas Carol
1998

Desmond Barrit
A Christmas Carol
1999
The spirit greatly resembles the illustrations in the Dickens version.

Zelda Spellman
Sabrina: The Animated Series: "Witchmas Carole"
1999

Socrates
(voiced by Michael Donovan)
Adventures from the Book of Virtues: "A Christmas Carol"
2000

John Taylor
A Diva's Christmas Carol
2000

William Shatner
A Carol Christmas
2003
Shatner, who played a fictional TV host named Dr. Bob, also appears to Carol Cartman as the spirit, who has an annoying habit of speaking in cliches.

Bloo
(voiced by Keith Ferguson)
Foster's Home for Imaginary Friends: "A Lost Claus"
2005
Bloo poses as the ghost of 'A' Christmas Present (a moving and talking red gift with a green ribbon) and tells Mr. Herriman has been a cheapskate for far too long and should buy more gifts, calling it the 'true meaning of Christmas'.

Wyatt Williams
6teen: "In a Retail Wonderland..."
2005

Yosemite Sam
(voiced by Maurice LaMarche)
Bah, Humduck! A Looney Tunes Christmas
2006

A Christmas Mikey
2006

Voiced by
Jim Carrey
A Christmas Carol
2009
The spirit greatly resembles the version in the novel.

David Tennant
The Catherine Tate Show: "Nan's Christmas Carol"
2009
This version of the spirit has a goth-like appearance and talks and acts flamboyantly.

Brainy Smurf
(voiced by Fred Armisen)
The Smurfs: A Christmas Carol
2011
Brainy Smurf dresses in a green robe with white fur trim and a holly wreath with candles for a crown, just like the one in the book. He even uses one of the candles to draw.

Pear
(voiced by Daneboe)
The High Fructose Adventures of Annoying Orange: "Orange Carol"
2012

Beto
La CQ: "Christmas in the CQ"
2012

Paxton
(voiced by Steven Kynman)
Thomas & Friends: "Diesel's Ghostly Christmas"
2015
Paxton has red and green lamps on him, speaks through pipes on a flatbed and hides behind a bridge. He even breaks the fourth wall: "Then I must be good at pretending!"

Armand
Camp Lakebottom: "Smells Like the Holidays"
2016
Using a 'gassy' klaxon, the 'present' spirit comes to McGee as Armand (wearing a Santa Claus suit). He then shows McGee how Squirt is unable to join his friends in the fun while in the bubble, because of what he fears his gas can do to them.

Pinkie Pie
(voiced by Andrea Libman, singing voice by Shannon Chan-Kent)
My Little Pony: Friendship is Magic: "A Hearth's Warming Tail"
2016
Pinkie Pie plays a character similar to the Ghost of Christmas Present, named the Spirit of Hearth's Warming Presents.

Dr. Bugly
Be Cool, Scooby-Doo!: "Scroogey Doo"
2017
The ghost greets Velma in the streets and reveals to her the new Science and Reasons Symposium. He claims her mystery-solving will make her miss it. When she claims her friends wouldn't allow it, he shows them that their priorities aren't the same as hers. He also claims to have already visited Scrooge, confirmed when Scrooge mentions it to the gang. The ghost then claims that Velma's friends are holding her back from her true potential, then he reappears and chases the gang through Scrooge's house.

Justin Edwards
The Man Who Invented Christmas
2017

Bubbles
(voiced by Kristen Li)
The Powerpuff Girls: "You're a Good Man, Mojo Jojo"
2017

Squeeks
(voiced by Kate McKinnon)
Nature Cat: "A Nature Carol"
2019

Demi
(voiced by Mitchell Whitfield)
Vampirina: "A Gargoyle Carol"
2019

Lincoln Loud and Clyde McBride
(voiced by Asher Bishop and Andre Robinson)
The Loud House: "A Flipmas Carol"
2020
Community content is available under
CC-BY-SA
unless otherwise noted.