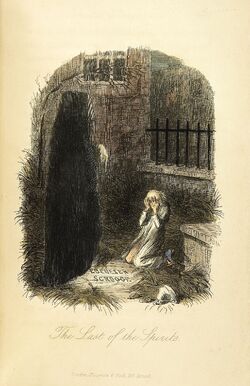 The Ghost of Christmas Yet to Come, also known as the Ghost of Christmas Future, is a character from Charles Dickens's A Christmas Carol.
Role in the story
It is the third ghost who haunts the miser Ebenezer Scrooge, in order to prompt him to adopt a more caring attitude in life and avoid the horrid afterlife of Marley. Scrooge finds the Ghost of Christmas Yet to Come the most fearsome of the spirits; he appears to Scrooge as a figure entirely muffled in a black hooded robe, except for a single gaunt hand with which he points. Although the character never speaks in the story, Scrooge understands him, usually rough assumptions from his previous experiences and rhetorical questions. The Ghost's general appearance suggests that he may be associated with the Grim Reaper. The Ghost's muteness and undefined features (being always covered by his robe) may also have been intended to represent the uncertainty of the future. He is notable that even in satires and parodies of the tale, this spirit nonetheless retains his original look.
"The Phantom slowly, gravely, silently approached. When it came near him, Scrooge bent down upon his knee; for in the very air through which this Spirit moved it seemed to scatter gloom and mystery. It was shrouded in a deep black garment, which concealed its head, its face, its form, and left nothing of it visible save one outstretched hand. ... It thrilled him [Scrooge] with a vague uncertain horror, to know that behind the dusky shroud there were ghostly eyes intently fixed upon him, while he, though he stretched his own to the utmost, could see nothing but a spectral hand and one great heap of black."
When the Ghost makes his appearance, the first thing he shows Scrooge is three wealthy gentlemen making light of a recent death, who remark that it will be a cheap funeral, if anyone comes at all. One businessman said he would go only if lunch is provided, while another said he didn't eat lunch or wear black gloves, so there was no reason for him to appear at this funeral. Next, Scrooge is shown the same dead person's belongings being stolen and sold to a receiver of stolen goods called Old Joe. He also sees a shrouded corpse, which he implores the ghost not to unmask, and a poor, debtor family rejoicing that someone to whom they owed money is dead. After pleading to the ghost to see some tenderness connected with death, Scrooge is shown Bob Cratchit and his family mourning the passing of Tiny Tim. (In the prior visitation, the Ghost of Christmas Present states that Tim's illness was not inherently fatal, but implies that the meager income Scrooge provided to Bob Cratchit did not provide funds for proper treatment.) Scrooge is then taken to an unkempt graveyard, where he is shown his own grave, and realizes that the dead man of whom the others spoke ill was himself.
This visit sets up the climax of the novella at the end of this stave. Moved to an emotional connection to humanity and chastened by his own avarice and isolation by the visits of the first two spirits, Scrooge is horrified by the prospect of a lonely death and by implication a subsequent damnation. In desperation, he queries the ghost:
"Before I draw nearer to that stone to which you point," said Scrooge, "answer me one question. Are these the shadows of the things that Will be, or are they shadows of things that May be, only?"
Still the Spirit pointed downward to the grave by which it stood.
"Men's courses will foreshadow certain ends, to which, if persevered in, they must lead," said Scrooge. "But if the courses be departed from, the ends will change. Say it is thus with what you show me!"
And in an epiphany in which he understands the changes that the visits of the three spirits have wrought in him, Scrooge exclaims: "I am not the man I was. I will not be the man I must have been but for this intercourse. Why show me this, if I am past all hope!...I will honour Christmas in my heart, and try to keep it all the year. I will live in the Past, the Present, and the Future. The Spirits of all Three shall strive within me. I will not shut out the lessons that they teach. Oh, tell me I may sponge away the writing on this stone!"
His transformation complete, Scrooge is ready to re-enter the world of humanity as he does in the story's denouement in the final stage.
In the 1984 film adaptation of A Christmas Carol, this Spirit wears black, but responds to Scrooge in the form of an eerie metallic noise sounding similar to the screech of a cemetery's gate when it opens and closes often.
Portrayals
Picture
Performer
Production
Year
Notes

Mister Magoo's Christmas Carol
1962

Famous Classic Tales: A Christmas Carol
1969

Pete
(voiced by Will Ryan)
Mickey's Christmas Carol
1983
After showing Scrooge (played by Scrooge McDuck) the grieving Cratchits at Tiny Tim's grave, he brings Scrooge to his own grave and tosses him in there. It should be noted that, in the original vinyl record that inspired the special, the Ghost was portrayed not by Pete, but by Queen Grimhilde from Snow White and the Seven Dwarfs.

The Jetsons: "A Jetson Christmas Carol
1985
The ghost at first resembles the ominous monolith from 2001: A Space Odyssey, until its front is shown with all sorts of computer-like buttons and a small screen. Mr. Spacely refers to him as The Ghost of Christmas Yet to Be.
John Grin's Christmas
1986
Christmas Future is interpreted by Geoffrey Holder as a variation on his popular 007 villain Baron Samedi (from Live and Let Die). Dressed in voodoo regalia, Christmas Future comments on how miserly John Grin (Robert Guillaume) has no friends and no future. Christmas Future then shows Grin as guest of honor at his own funeral, with all those he scorned or shunned popping in to tell him what they think of his mistreatments. Laughingly, Christmas Future interjects assorted commentary as befits the proceedings. Aghast, Grin flees the theater...and wakes up in his own bed.

Simon Seville
(voiced by Ross Bagdasarian Jr.)
Alvin and the Chipmunks: "Merry Christmas, Mr. Carroll"
1989

The Muppet Christmas Carol
1992

Yakko Warner
(voiced by Rob Paulsen)
Animaniacs: "A Christmas Plotz"
1993

Bluey the Penguin
(voiced by Jimmy Hibbert)
Avenger Penguins: "A Christmas Carol"
1994

Dino
(voiced by Frank Welker)
A Flintstones' Christmas Carol
1994
Philo Quartz is cast as the ghost in the Bedrock Community Theatre production of the play. However, Philo catches the Bedrock Bug before he can perform, so Dino fills in for him.
Ebbie
1995
Elizabeth Scrooge's security officer Luther becomes the Ghost.

Spot Chicken
(voiced by Tara Strong)
101 Dalmatians: "A Christmas Cruella"
1997
A Diva's Christmas Carol
2000
The Ghost is actually portrayed by a miniature TV showing a future episode of Behind the Music, about Ebony Scrooge.
Aurora
Adventures from the Book of Vitures: "Compassion"
2000
James Cromwell
A Carol Christmas
2003
The Ghost is portrayed as a tall, ominous-looking chauffeur.
A Christmas Carol: The Musical
2004
A blind old beggar woman whom Scrooge rebuffs later appears as the Ghost.

Tasmanian Devil
(voiced by Jim Cummings)
Bah, Humduck! A Looney Tunes Christmas
2006

Voiced by
Jim Carrey
A Christmas Carol
2009
The ghost is depicted as a shadow which has the ability to come out from the wall to a black physical form and can shrink Scrooge and chase him as a giant shadow carriage driver. Much like in Mickey's Christmas Carol, the ghost tosses Scrooge into his grave atop the fires of Hell.

Hefty Smurf
(voiced by Gary Basaraba)
The Smurfs: A Christmas Carol
2011
Hefty is dressed in a short-sleeved robe with a hood similar to the way the Ghost was dresses, and black Smurf pants.

Marshmallow
(voiced by Daneboe)
The High Fructose Adventures of Annoying Orange: "Orange Carol"
2012

Jenny
La CQ: "Christmas in the CQ"
2012

Thomas
Diesel's Ghostly Christmas
2015
Thomas is covered in rubbish to make him look like the hooded figure.

Princess Luna
(voiced by Tabitha St. Germain, singing voice by Aloma Steele)
My Little Pony: Friendship is Magic: "A Hearth's Warming Tail"
2016
Princess Luna plays a character similar to the Ghost of Christmas Yet to Come named the Spirit of Hearth's Warming Yet to Come.
Community content is available under
CC-BY-SA
unless otherwise noted.