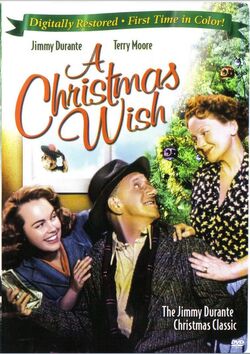 The Great Rupert (reissued as A Christmas Wish) is a 1951 comedy family film produced by George Pal and starring Jimmy Durante (who would go on to voice the narrator of Frosty the Snowman), Tom Drake and Terry Moore. It is based on a story written by Ted Allan, which has also been published as a children's book under the title "Willie the Squowse".
Sunnary
The story revolves around a little animated squirrel who, with lots of charm, accidentally helps two economically distressed families overcome their obstacles.
Cast
Actor/actress
Character
Jimmy Durante
Mr. Louie Amendola
Terry Moore
Rosalinda Amendola
Tom Drake
Peter 'Pete' Dingle
Frank Orth
Me. Frank Dingle
Sara Haden
Mrs. Katie Dingle
Queenie Smith
Mrs. Amendola
Chick Chandler
Phil Davis
Jimmy Conlin
Joe Mahoney

Rupert the Squirrel

Hugh Sanders
Mulligan
Donald T. Beddoe
Mr. Haggerty
Candy Candido
Molineri (Florist)
Clancy Cooper
Police Lt. Saunders
Harold Goodwin
Callahan (FBI Man)
Frank Cady
Mr. Taney (Tax Investigator)
Uncredited actors/actresses
Lester Dorr
Eddie (Bartender)
Kenner Kemp
Passerby in Park
Frank Marlowe
Dave (Mailman)
Torben Meyer
Mr. Petrushka (Baker)
Ralph Montgomery
Fireman
Irving Pichel
Puzzled Pedestrian
Harry Strang
Fire Chief
External links
This page about a Christmas special or an episode from a television series with a Christmas theme is a stub. Please help the Christmas Special Wiki by expanding this article.
Community content is available under
CC-BY-SA
unless otherwise noted.