Wiki Targeted (Entertainment)
Play Sound
"
All right everybody, brace yourselves. In exactly 48 hours, we are going to do something, that's never been done before. We're gonna... trap Santa Claus!
"

— Cindy Lou Who to her group while they navigate the ice maze
Dr. Seuss' The Grinch is a CGI animated movie adaptation of Dr. Seuss' storybook How the Grinch Stole Christmas!, developed by Illumination Entertainment.[1] It is the studio's second film adaptation of a Dr. Seuss book, after 2012's The Lorax, and the third film adaptation of the story, after the 1966 animated TV special by Chuck Jones and the 2000 live-action film by Imagine Entertainment. Starring Benedict Cumberbatch as the voice of the Grinch, it was originally scheduled to be released on November 10, 2017,[2] but in June 2016, it was pushed back to November 9, 2018.[3] It was also dedicated to the memory of the former ICM agent Herb Cheyette, representing Seuss' estate, who passed away on October 2, 2012,[4] and was presented by Universal Pictures International, with Dentsu and the Fuji Television Network.
Synopsis
In the town of Whoville, human-like creatures called Whos are filled with excitement about celebrating Christmas. The only one who isn't amused is the Grinch, a cantankerous, green furred creature who has a heart "two sizes too small" and lives in a cave on the top of Mount Crumpit, just north of Whoville. The Grinch's only friend is his loyal pet dog, Max, and they both only visit Whoville when the Grinch needs to buy food and/or do bad things.
Meanwhile, 6-year-old Cindy Lou Who notices that her mother, Donna, is overworked trying to take care of herself and her twin infant brothers, Buster and Bean. She at first decides to send a letter to Santa Claus to help her mother but after encountering the Grinch, who sarcastically says that she'll have to talk to Santa face-to-face about it, she eventually decides to try and trap Santa with the help of her friends.
With Christmas just around the corner, all the Whoville festivities force the Grinch to recall his sad childhood spent mostly alone and unwanted in a run-down orphanage. The Grinch soon decides that he will steal Christmas from Whoville to assuage his distress. He acquires a fat reindeer whom he calls Fred to help him pull a sleigh that he stole from frenemy Mr. Bricklebaum. After a test run, the Grinch discovers that Fred has a wife and child. With a heavy heart, he lets Fred go back to them.
On Christmas Eve, after making a Santa Claus disguise and dozens of gadgets to help him with his theft, the Grinch and Max, who pulls the sleigh in Fred's place, go down to Whoville and begin stealing the decorations and presents. He soon encounters Cindy after falling into her trap. Her request to help lighten her mother's workload, and her kind advice about listening to the Whos' singing to take his sadness away, touches the Grinch's bitter heart. Nevertheless, the Grinch carries on with his mission.
After stealing every Christmas present and decoration, the Grinch and Max head back to Mount Crumpit to dispose of them. The Whos wake up and are shocked to see that the presents and decorations are gone. Cindy at first believes she's to blame because she 'caught' Santa, but Donna tells her that Christmas is more than just about presents and that Cindy's the best thing that ever happened to her. The Whos join together in song. The Grinch and Max hear the singing and the Grinch is puzzled to see that they are celebrating Christmas despite his theft. After heeding Cindy's advice and immersing himself to their singing, his small heart triples in size, causing him to double over in breathless joy and wonder. The sleigh almost falls off Mount Crumpit and the Grinch tries to save it. In the nick of time, Fred and his family come to his aid. After securing the sleigh, the Grinch and Max go to Whoville to return the stolen items and he admits his theft to the Whos and apologizes before going back to his cave.
Feeling sorry for the Grinch, Cindy comes to invite him to celebrate Christmas at her house and he awkwardly attends. When seated down for dinner, he confesses that it wasn't really Christmas he disliked but being lonely and his bitterness over being neglected. Before carving the roast beast, the Grinch offers a toast, "To kindness and love, the things we need most."
Music
Songs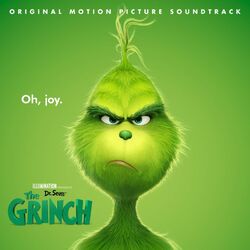 Songs featured in the movie include:
Of the songs featured in the movie, "Feliz Navidad", "Brazil", "Mambo No. 5", "All by Myself", "O Christmas Tree", "Welcome Christmas", "Boogie", and "Silent Night" do not appear on the soundtrack album, released on the same day as the movie itself.
Score
In addition to the soundtrack album, the film's full score, produced by Danny Elfman, was released as a separate album. The track listing was as follows:
| # | Track title | Length |
| --- | --- | --- |
| 1 | The Big Opening | 2:46 |
| 2 | Going to Town | 1:36 |
| 3 | Jaunty Kitchen | 1:37 |
| 4 | Mailing a Letter | 0:50 |
| 5 | It's Better This Way | 1:30 |
| 6 | Northward Bound | 1:29 |
| 7 | Christmas in Whoville | 4:01 |
| 8 | Lost Lonely Boy | 1:52 |
| 9 | Welcome Song / Forlorn | 2:29 |
| 10 | To the Fort | 1:18 |
| 11 | Dog Tongue | 1:23 |
| 12 | Walking Toward Destiny | 2:47 |
| 13 | The Loudest Snow | 2:10 |
| 14 | Puppy Eyes | 1:04 |
| 15 | Command Center | 1:33 |
| 16 | Grinch's Wild Ride | 2:42 |
| 17 | Kids Can't Sleep | 1:33 |
| 18 | Stealing Christmas | 4:04 |
| 19 | Taking the Bait | 1:43 |
| 20 | It's My Fault | 2:19 |
| 21 | Welcome Christmas | 1:38 |
| 22 | The Apology | 1:08 |
| 23 | First Christmas | 0:51 |
| 24 | The Big Finale | 1:56 |
| 25 | All by Myself (Bonus Track) | 1:05 |
Home video releases
Cast
Gallery
Video
References
External links
Community content is available under
CC-BY-SA
unless otherwise noted.