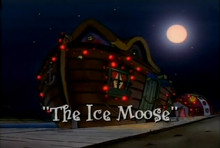 The Ice Moose is a Christmas double-length story of PB&J Otter.
Plot
In this story, PB&J and their friends and family celebrate Hoohaw Hoo, the Lake Hoohawequivalent of Christmas. To celebrate the holiday, they have a pageant. Aunt Nanner is slated to play Old Tim, the Ice Moose, but comes down with a bad case of otter flu not long before the pageant. The kids to enlist Flick as a replacement, but Flick is down on the holiday, having only received a pair of underwear for Hoohaw Hoo and not the fancy presents that he wished for. He doesn't believe in Old Tim and only briefly agrees to play the role before stalking off in distaste. Along the way, he meets Simon Fieldmouse, a small, poor mouse who wishes that he could fly. Hearing Simon's wish, Flick's annoyance with the holiday begins to melt, but he has to learn to fly himself before he can help Simon.
Cast
Songs
Hoohaw Hoo (and reprises)
Practice Makes Perfect
Trivia
There wasn't a fade when Jelly said, "Maybe we'll think of somehing once we get going.
The only fade was when Flick waves bye to Simon and walks away.
This was the only double length episode that centered around Flick.
Gallery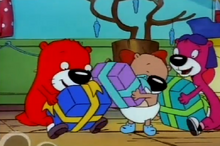 Community content is available under
CC-BY-SA
unless otherwise noted.