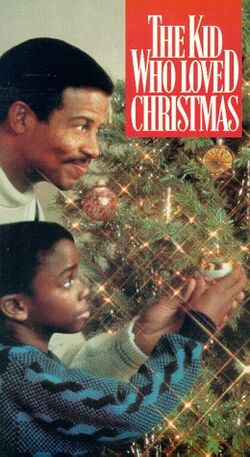 The Kid Who Loved Christmas is a 1990 made-for-TV movie, that was executive produced by Eddie Murphy of his own production company. This marked the final acting performance for Sammy Davis, Jr. prior to his death in May 1990.
Synopsis
A family is torn apart at Christmas when a wife of a couple, trying to adopt a son, is killed in a car accident by a drunk driver and the husband, a musician, is deemed unfit to raise a child.
Cast
Actress/actor
Character
Cicely Tyson
Etta
Michael Warren
Tony Parks
Sammy Davis Jr.
Sideman
Gilbert Lewis
Unknown
Charlies Q. Murphy
Unknown
Ken Page
Unknown
Ray Parker Jr.
Unknown
Della Reese
Alicia Slater
Esther Rolle
Esther Clayton
Ben Vereen
Unknown
Vanessa Williams
Lynette Parks
Trent Cameron
Reggie
Jimmy Carville
Santa
Taxidriver
Paula Anglin
Cora
John Beal
Cameron
Chris Cartmill
Office Worker
Marcus Caruthers
Gerald
Kelly Coffield
Linda Cowley
John Cothran Jr.
Minister
Steven Crayton
Jimmy
Tim Douglas
Information Officer
James Dunleavy
Noah
Irma Hall
Mrs. Smith
Jeff Kizer
Mark Holden
Marge Kotlisky
Gretchen
David Laster
Philly Monroe
Sonny Mann
Michael
Tennille Martin
Girl in the Museum
Mary Mulligan
Diana Holden
Sherry Narens
Teacher
Jay Roberts
Salesperson
Sam Sanders
Mr. Smith
Peter Siragusa
Bruno
Gregory Sporleder
Vendor
Sadie Veraldi
Rita
Jason Weaver
Ernie
Tom Webb
Guard
Ron West
Derelict
Alan Wider
Store Employee
Jonathan Wilson
Bouncer
Cedric Young
Conductor
Jeffrey Craig Harris
Clerk
Stephanie Burton (uncredited)
Jazz club patron
Robert Minkoff (uncredited)
Bit
External links
Community content is available under
CC-BY-SA
unless otherwise noted.