The Leprechaun's Christmas Gold is a 1981 animated television special produced by Rankin/Bass, featuring the vocal talent of Art Carney.
Synopsis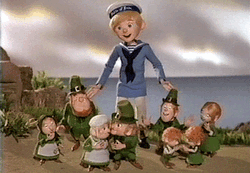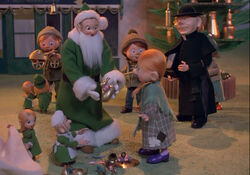 Young Dinty Doyle digs up a pine tree on an uncharted Island where leprechauns live. Unfortunately, he unintentionally releases Old Mag the Hag, a banshee seeking gold before Christmas. Now Blarney Kilakilarney's gold is out in the open. Can Dinty keep Mag from taking the gold for her own purpose?
Songs
Trivia
Arthur Rankin stated in an interview that during the holiday season when the special first aired, a promotion was planned where prizes would be buried in random places throughout the United States for children to dig up. This was scrapped because of safety concerns.
Broadcast history and availability
After acquiring the distribution rights to the post-1973 Rankin/Bass specials, Warner Home Video released The Leprechauns' Christmas Gold on VHS in 1993. Currently, the special has never had its own individual DVD release, but it was made available on Warner's Classic Christmas Favorites DVD box set in 2008, and on the Santa's Magical Stories box set in 2011. Its most recent DVD release was in the Rankin/Bass TV Holiday Favorites Collection manufacture-on-demand DVD, released by Warner Archive on July 30, 2012.
The special was aired as part of ABC Family's annual 25 Days of Christmas programming block from the 1990s to 2010. As with all the Rankin/Bass specials that were broadcast there, it moved to AMC's own programming event, Best Christmas Ever, in 2018.
Cast
External links