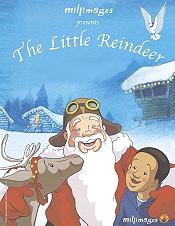 The Little Reindeer is France 3's animated Christmas special, produced by Millimages, from Michael Foreman's 1996 book, that premiered on Christmas Day 2004. It won the 2005 BAFTA Children's Award for Best Animation.
Synopsis
This page about a Christmas special or an episode from a television series with a Christmas theme is in need of a longer synopsis. You can help the Christmas Special Wiki by expanding this synopsis.
Santa Claus
' little reindeer accidentally gets wrapped up like a gift and falls off the sled. He gets delivered to a little boy who sees in him a very special gift.
The boy builds the reindeer a shed on his roof, and they soon become best friends! During a whole year, they are going to live beautiful adventures together.
But as Christmas approaches, the little reindeer can't help looking up at the sky, the little boy understands his friend has to leave. The boy knows that the reindeer belongs to Santa, thanking him for finding his lost reindeer.
Songs
Cast
Casting by Character Developments
Note: Santa himself is the only character to speak. All the others are non-verbal.
Gallery
External link
Community content is available under
CC-BY-SA
unless otherwise noted.