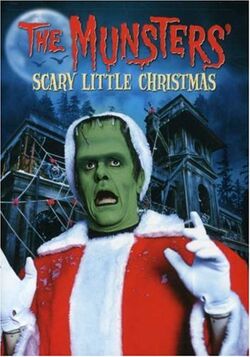 The Munsters' Scary Little Christmas is a FOX Christmas movie, based on the 1960s CBS show The Munsters, that premiered on December 17, 1996.
Plot
Get ready for some holiday spirits as the first family of fright rallies to show melancholy Eddie Munster some of the holly, jolly magic that only Santa can bring.
Cast
Actor/actress
Character(s)
Sam McMurray
Herman Munster
Ann Magnuson
Lily Munster
Bug Hall
Eddie Munster
Sandy Baron
Grandpa Munster
Mary Woronov
Mrs. Dimwitty
Ed Gale
Larry
Arturo Gil
Lefty
Mark Mitchell
Santa
Jeremy Callaghan
Tom
Elaine Hendrix
Marilyn Munster
John Allen
Mr. Pawlikowski
Noel Ferrier
Door Knocker
Bruce Spence
Mr. Gateman
Kate Fisher
Pretty Girl in Bar
Ann Dane
Mrs. Stein
Patricia Howson
Mrs. Matagrano
Dominic Condon
Jonathan Biggins
Spooky Onlookers
Alan Zitner
Cop
Daniel Kellie
Glen
Michael Hamilton
Hector Barbieri
Malcolm Mudway
Burly Biker
Charles Russell
Executioner Elf
Michael Tauro
Effigy Elf
David Anderson
Mr. Matagrano
Viv Carter
Irate Shop Owner
Julie Herbert
Nurse
Beth Armstrong
Salvation Army Santa
Jalsyn Colby
Chimney Sweep
Robert Staader
Brett Samuels
Michael Thrift
Robert Yearly
Neil Johns
Peter Leask
Barry Evans
Reindeer Bikers
Christian Manon
Creature from the Black Lagoon
Justin Case
Mummy
François Bocquet
Hockey Masked Psycho
Andrew Windsor
Moleman
Renee Askar
Lou Pollard
Brian Langsworth
Zombies
Ben Grieve
Werewolf
Jason Taylor
Phantom of the Opera
Brett Wood
Invisible Man
David Anthony
Cyclops
Donald Cook
Hunchback of Notre Dame
Troy Livermore
Devil
Lucy Clifford
Witch
Erin Hart
Choir #1
David Jobling
Art Teacher
External links
Community content is available under
CC-BY-SA
unless otherwise noted.