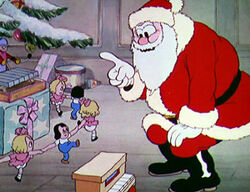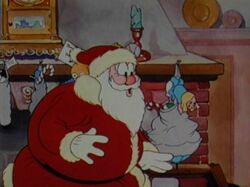 The Night Before Christmas (also known as Santa's Toys) is a 1933 Christmas-themed Silly Symphony short produced by Walt Disney Productions and originally released by United Artists on December 9, 1933, following up the previous year's Santa's Workshop.
Synopsis
In a loose adaptation of Clement Moore's famous poem, St. Nick is seen delivering the toys that he made in Santa's Workshop to a house full of sleeping children. The toys come alive, and they dance around and have fun. The kids awake to find a beautiful Christmas tree with lots of toys.
Availability
The short was featured on the A Walt Disney Christmas VHS, CED, and Laserdisc releases in 1982. It made its DVD debut as a bonus feature on the 2002 Special Edition DVD release of The Santa Clause, as well as the 2012 Blu-ray release. It was later included on the Walt Disney Treasures: More Silly Symphonies DVD set in 2006.
Cast
| Voice actor | Character |
| --- | --- |
| Allan Watson | St. Nick |
| Kenny Baker (uncredited) | Narrator |
External links
This page about a Christmas special or an episode from a television series with a Christmas theme is a stub. Please help the Christmas Special Wiki by expanding this article.