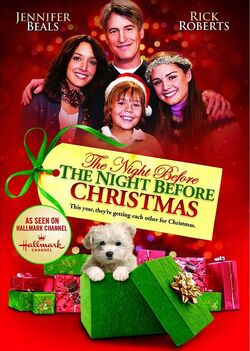 The Night Before The Night Before Christmas is a Hallmark Channel original movie starring Jennifer Beals and Rick Roberts, and produced by Muse Entertainment Enterprises. It premiered on November 20, 2010, as part of the channel's second annual Countdown to Christmas event.
Summary
From the Hallmark Channel press release:
Angela Fox and her husband, Wayne, together with their children, Hannah & Toby, find themselves on December 23 without a tree, presents or Christmas spirit. Like too many modern families, they have grown apart, too busy with their individual lives and schedules to spend time together, even on the holidays. All of this is about to change when, due to elf error, Santa sets out on the night before Christmas Eve and crashes on the roof of the Fox home. Santa's sleigh is disabled, his magic gift bag is missing, and even worse, he has amnesia!
Will Christmas be lost or can the Fox family come together and save Christmas and, in the process, their holiday traditions?
With Santa's journey around the world in jeopardy of being cancelled, Toby, who still believes in the magic of Christmas, begs this family to get in the holiday spirit to help jog Santa's memory. As the fate of the holiday rests in their hands, the Foxes must work together to get Santa, and their family, back on track.
Cast
| Actress/actor | Character |
| --- | --- |
| Jennifer Beals | Angela Fox |
| Rick Roberts | Wayne Fox |
| R.D. Reid | Santa |
| Jordan Prentice | Nigel Thumb |
| Gage Munroe* | Toby Fox |
| Rebecca Williams | Hannah Fox |
| Marcia Bennett | Mrs. Claus |
| Cle Bennett | Lonnie |
| Kim Roberts | Yolanda |
| Sam Malkin | Hank |
| Brad Borbridge | Wes |
| Billy Otis | Karl |
| Karl Campbell | Registration Desk Guy |
| Sarah Leach (uncredited) | Choir Girl |
* - Nominated for the 2011 Young Aritists Award for Best Actor in a TV movie
External links
Community content is available under
CC-BY-SA
unless otherwise noted.