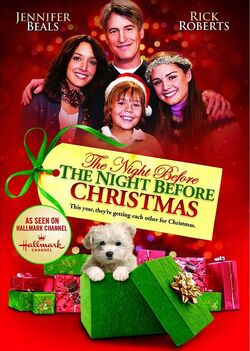 The Night Before the Night Before Christmas is a made-for cable television movie which premiered on November 20, 2010, on the Hallmark Channel.
Synopsis
From the Hallmark Channel press release:
SPOILER:
Plot details or story follow.
Angela Fox (Jennifer Beals) and her husband, Wayne (Rick Roberts), together with their children, Hannah (Rebecca Williams) and Toby (Gage Monroe), find themselves on December 23 without a tree, presents or Christmas spirit. Like too many modern families, they have grown apart, too busy with their individual lives and schedules to spend time together, even on the holidays. All of this is about to change when, due to elf error, Santa sets out on the night before Christmas Eve and crashes on the roof of the Fox home. Santa's sleigh is disabled, his magic gift bag is missing, and even worse, he has amnesia!
Will Christmas be lost or can the Fox family come together and save Christmas and, in the process, their holiday traditions?
With Santa's journey around the world in jeopardy of being cancelled, Toby, who still believes in the magic of Christmas, begs this family to get in the holiday spirit to help jog Santa's memory. As the fate of the holiday rests in their hands, the Foxes must work together to get Santa, and their family, back on track.
External links
This page about a Christmas movie is a stub. Please help The Christmas Special Wiki by expanding this article.