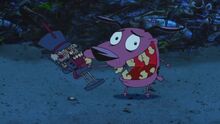 "The Nutcracker" is the Christmas episode of Cartoon Network's original show Courage the Cowardly Dog, produced and aired as the second half of the first episode of its fourth and final season, pairing up with the brother episode "A Beaver's Tale".
Summary
While browsing through the dump, Courage and his owners get locked inside. As that happens, Courage finds a nutcracker toy he cherishes. Later that night, two rats who ironically dance in ballet capture Eustace and proceed to chase after Courage and Muriel, dancing to music from the Nutcracker, though with the help of the nutcracker toy, Courage with Muriel kept on escaping. Later, Muriel is also captured and Courage with his toy head off to save his owners from the dancing rats.
Composition
Tchaikovsky's "Pas de Deux - Variation II: Dance of the Sugar Plum Fairy" - Arranged by Andy Ezrin and Jody Gray
External link
Community content is available under
CC-BY-SA
unless otherwise noted.