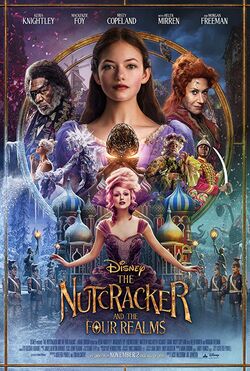 The Nutcracker and the Four Realms is a 2018 theatrical Christmas movie presented by Disney and produced by Mark Gordon, and it is loosely based on The Nutcracker by E.T.A. Hoffmann and The Nutcracker Ballet by Pyotr Ilyich Tchaikovsky. The film was released on November 2, 2018 by Walt Disney Studios Motion Pictures.
Synopsis
One Christmas Eve in Victorian-era of London, England, Mr. Stahlbaum gives his 3 children Christmas presents to fulfill his wife Marie's dying wish. The eldest daughter, Louise recieves her mother's favourite dress, the only son, Fritz recieves a set of toy soldiers while the youngest daughter, Clara, receives a handcrafted egg-shaped box, which she is unable to unlock. In the package, she discovers a note from her mother that states that the inside of the egg is all she would ever need, Clara is also unable to pick the lock as it's a pin tumbler lock. The Stahlbaum family then head to a Christmas Eve ball, hosted by the children's godfather and skilled engineer Drosselmeyer. Refusing to dance with her father, Clara scurries from the crowd to ask Drosselmeyer how to unlock her egg. He then reveals to Clara that the egg was a creation of his that he gifted to Clara's mother when she was younger, and that her mother's wish was to bestow the gift to her daughter.
Returning to the ballroom, Clara gets scolded by her father for disobeying him and not dancing with him. She calls him self-absorbed and obsessed with his family's image since her mother's passing, after which Drosselmeyer announces it being time for the children to receive their gifts. Clara finds her string with her name on it, signifying her gift, and follows it into a forest in a parallel world where she sees the key. Before she can grab it, a mouse snatches it. Unable to reach the mouse, which crosses a frozen-over lake, Clara approaches a nutcracker soldier named Captain Philip Hoffman. He leads her across the bridge into the Fourth Realm, but they are unable to obtain the key from the mouse after fleeing from Mouserinks a rodent-like monster formed by thousands of mice working in unison. Captain Philip then guides Clara to the palace, where she meets three regents of each land. They tell Clara that they are at war with the Land of Amusements which they now refer to as "the Fourth Realm".
Watching a ballet that tells the story of their world's creation, the Sugar Plum Fairy, regent of the Land of Sweets, explains to Clara that her mother created this world as a young girl. She later explains that Marie animated everyone with a machine that can turn toys into real-life people. Sugar Plum says that she can use this machine to defend the other three realms against Mother Ginger, the Regent of the Fourth Realm, but it needs a key. Clara notices that the machine's keyhole matches that of the one on her egg. Clara and her soldiers head towards Mother Ginger and steal the key the mouse had snatched. However, Clara is disappointed upon discovering that the egg is only a music box.
Once Sugar Plum obtains the key, she uses the machine to turn toy soldiers into life-size soldiers that obey her every command, including her command to attack the Fourth Realm. She reveals that the machine can turn this world's people back into toys as well, and intends that to be the fate of the other regents, revealing she had lied about Mother Ginger who, with her people, only resisted against Sugar Plum's plan. Clara resists, and Sugar Plum imprisons Clara, Captain Philip, Shiver, and Hawthorne.
When Clara opens her egg-shaped music box again, she discovers that the top flips up to reveal a mirror, illustrating that all she needed was herself. She and the other prisoners escape and she and Captain Philip are then greeted by one of Mother Ginger's mice who shows Clara another way into the machine room and guides Captain Philip to Mother Ginger to convince her to help Clara overthrow Sugar Plum. Clara enters the machine room and shuts down the machine while fighting off soldiers. Mother Ginger comes to her aid and helps her to fight off the soldiers. Sugar Plum ultimately traps Mother Ginger and attempts to turn her back into a toy with the machine. However, Clara tinkers with the machine so that it aims at Sugar Plum. The machine zaps and turns her back into a porcelain doll as punishment for high treason to the Realms, saving Mother Ginger.
Thanked for restoring peace among the Realms, Clara promises to visit the Realms in the future and returns back to London, where time has hardly passed since she left. She then approaches her father, apologizes for her earlier behaviour, and asks him to dance. He accepts, and Clara opens her music box. Clara's father becomes emotional and reveals that the music box's song was the first song that he and Clara's mother had ever danced to. The two, along with Fritz and Louise then continue to dance throughout the night.
Songs
Both songs are featured in the closing credits.
Cast
Actor(s)/actress(es)
Character(s)
Mackenzie Foy
Clara
Tom Sweet
Fritz
Meera Syal
Cook
Ellie Bamber
Louise
Matthew Macfadyen
Mr. Stahlbaum
Nick Mohammed
Short Butler
Charles Streeter
Tall Butler
Morgan Freeman
Drosselmeyer
Jayden Fowora-Knight
Phillip
Prince the Horse
Jingles
Helen Mirren
Mother Ginger
Omid Djalili
Cavalier
Jack Whitehall
Harlequin
Eugenio Derbez
Hawthorne
Richard E. Grant*
Shiver
Keira Knightley**
Sugar Plum
Gustavo Dudamel
Himself (Conductor)
Misty Copeland
Ballerina Princess
Max Westwell
Flower Cavalier
Aaron Smyth
Snow Cavalier
Sergei Polunin
Sweets Cavalier
Anna Madeley
Marie Stahlbaum
Sophie Apollonia
Zoe Arshamian
Diogo Barbosa
Harris Bell
Julia Conway
James Butcher
Jonathan Caguioa
Antonette Dayrit
Joshua Donald
Anna Forbes
Ryan Goscinski
Bethany Harrison
Layla Harrison
Zoë Heighton
Nicky Henshall
Amy Hollins
Richard Leavey
Sebastian Loe
Alexander Loxton
Alex Joglar
Kristen McGarrity
David Mcintosh
Louis McMiller
Owen Morris
Katharina Nikelski
Nicole O'Neill
Matthew Petty
Callie Roberts
Tahlia Shaw
Lori Strange
Lowri Shone
Carrie Johnson
Emily Umbrazunas
Dancers
Rachelle Beinart
Richard Blenkiron
Annabel Canaven
Nicholas Daines
Kain Francis
Craig Garner
Deniz Genc
Edward Upcott
Joe Watts
Polichinelle Dancers
Uncredited actresses/actors
Nicole Alphonce
Zoë Scott
Flower Realm Creatures
Lindy Barrett
Henry Helm
Children at Ball
Chloe Belcher
Mistletoe Seller
Martin Bratanov
Palace Guard
Soldier
Lil Buck
The Mouse King
Zachary Catazaro
Male Dancer
Will Christopherson
Shane Griffin
Benjamin Mason
Toy Soldiers
Kayleigh Ferguson
Maid
Flor Ferraco
Drosselmeyer's Guest
Liam Gardiner
Eddy Shore
Luke Wright
Thorne Room Guards
Sharon Gatt
Flower Realm Lady
Alex Gillison
Flower
Marta Glowacka-Escote
Ice Realm Resident
Jacob Greener-Tofts
Toy Child
Miranda Hart
Dew Drop Fairy
Elisa Hayrapetyan
Elle van Knoll
Market Passerbys
Michael Hennessy
Hugh O'Brain
Party Guests
Maxamillian Hofgartner
Nutcracker
Toy Soldier
Tim Ingall
Rita Damper
Jane Staiano
Gemma Wilma
Carolers
Marian Lorencik
Market Punter
Martyn Mayger
Victorian Passerby
Kei Miura
Scared Toy Soldier
Emily Ng
Ice & Snow Toy Soldier
Trent Owers
Head Throne Room Guard
Cadyn Page
Child
Blake Ridder
Toy Soldier
Dasha Simakina-Foster
Snow Girl
Young Princess at Ball
Albert Tang
Key Commitee Member
Alisha Tarran
Xmas Market Governess
Emily Tebbutt
Ice Realm Courtier
Sam Thompson
Palace Guard
Soldier
Joshua Viner
Phillip the Soldier
Jessie Vinning
Market Passerby
Tom Whelehan
Vendor
* - Nominated for a 2019 ALFS Award for UK Actor of the Year for Can You Ever Forgive Me?
** - Nominated for the 2019 Teen Choice Award for Fantasy Movie Actress
Availabilty
See also
External links