"The One Where Rachel Quits" is the third Christmas episode of the NBC sitcom Friends, produced and aired as the tenth episode of the show's third season.
Synopsis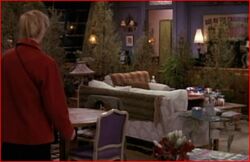 When Gunther tells Rachel that Terry wants her to take training again, Rachel realizes how much she hates her job. Chandler and Joey talk her into quitting, which she does. She regrets this soon after, when she's still without a lead on her career a day before her last one as a waitress at Central Perk.
Ross accidentally breaks Sarah's leg. She, who is a Brown Bird, can't sell Christmas cookies because of this and out of guilt, he sells them in her place in the hope of winning her the first prize trip to Space Camp. He is ousted, however, by girls who have sold hundreds of boxes of cookies. When, as a last desperate attempt, Ross buys enough boxes to top the sales, he is yet again ousted by another girl, but he does make Sarah feel better when, instead of giving her a trip to Space Camp, he takes her at Joey and Chandler's, who have decorated their apartment in a space theme and make her spin in one of the barcaloungers while the guys fool around like aliens.
Phoebe can't stand to see Christmas trees being cut down and sold to "serve their Christmas destiny", but she also puts Joey's job as a tree-seller in jeopardy when she goes to see him at work and witnesses the mutilation of an old tree in the chipper. As a friendly gesture, Monica and Joey take the trees to be chipped to Monica's apartment and set them up there. To top it all, Rachel receives a call from Fortunata Fashions, where Joey had managed to appoint her for an interview. She gets the job in fashion, and works her last day at Central Perk with a more lifted spirit (although she does mistake Chandler's order and brings him coffee instead of tea). Finally relieved that she never has to make coffee again, Rachel is appalled to find out her new job at Fortunata Fashions consists of nothing but making coffee for her new boss, Mr. Kapman, Sr.
Availability
The episode was made available on the Friends: The Complete Third Season DVD set, released by Warner Home Video on April 1, 2003.[1]
Cast
References
See also
External links