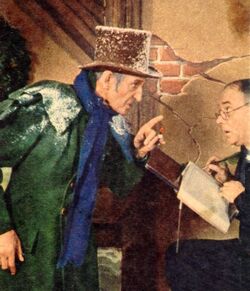 The Stingiest Man in Town is a television special that premiered as an episode of the NBC anthology television series The Alcoa Hour on December 23, 1956. The story is a musical adaptation of Charles Dickens' A Christmas Carol. The special featured Basil Rathbone (better known to classic movie fans for playing Sherlock Holmes in many adaptations of the great detective's adventures) as Ebenezer Scrooge.
Rankin/Bass later remade the musical as an animated special in 1978.
Availability
For a long time, this version of the musical was thought to be a lost film, a victim of the lack of preservation of many early television broadcasts. By chance, a copy of the master reel was found in the home of a retired executive for Alcoa, and restored for a DVD release, distributed on November 29, 2011.
Songs
The special's soundtrack featured the following songs:
"Humbug"
"Spirit Theme"
"Concerto Inferno"
"Mary's Little Boy Child"
"We're All Kids at Christmas"
"The Story of Christmas"
"The Lord's Prayer"
"Happy Holidays To You"
External links
This page about a Christmas special or an episode from a television series with a Christmas theme is a stub. Please help the Christmas Special Wiki by expanding this article.
Community content is available under
CC-BY-SA
unless otherwise noted.