Wiki Targeted (Entertainment)
Play Sound
The Stingiest Man in Town is an animated version of the 1956 Alcoa Hour special based on Charles Dickens' A Christmas Carol, produced by Rankin/Bass and originally broadcast on ABC on December 23, 1978. The musical special features the voices of Walter Matthau as Ebenezer Scrooge and Tom Bosley as the narrating insect, B.A.H. Humbug, Esq., whose name is a pun off Scrooge's most famous catchphrase "Bah, Humbug."
Synopsis
The tale of Ebenezer Scrooge is told through the perspective of narrator B.A.H. Humbug, whose name is of course a word play on Scrooge's catchphrase, "bah humbug". Scrooge is a tightwad, with his consistent resistance to assist the poor or even have Christmas dinner with his nephew Fred and his family. In hopes of resuscitating the goodness of his one-time friend, the ghost of Jacob Marley, Scrooge's former business partner, visits Scrooge in his mansion, exhorting him to change his ways. Scrooge deems this to be madness and soon prepares for bed.
Nevertheless, Scrooge's attitude soon changes after a fateful night wherein three ghosts also visit him and take him through his past. Within these pernicious shadows (which Scrooge created because of his avarice) and maliciousness toward his fellow men, Scrooge sees a younger caricature of himself and realizes how cryptic he has become. The Ghost of Christmas Present proceeds to take Scrooge to the home of his diligent employee Bob Cratchit and discovers just how much poverty Cratchit and his family wallow in. Cratchit's crippled son Tiny Tim touches. Finally, he is visited by The Ghost of Christmas Yet to Come, who shows Scrooge that he will die all alone, which leads Scrooge to beg for forgiveness. Scrooge's heart and instigates a transformation within his personality. The production concludes with Scrooge manifesting his enhancements as he assists those less fortunate than himself.
Songs
The special contains the following songs, all from the original special:
Availability
After acquiring the distribution rights to the post-1973 Rankin/Bass specials, Warner Home Video released The Stingiest Man in Town on VHS in 1993. Currently, the special has never had its own individual DVD release, but it was made available on Warner's Classic Christmas Favorites box set in 2008. It was later included in the Rankin/Bass TV Holiday Favorites Collection manufacture-on-demand DVD, released by Warner Archive on July 30, 2012.
Cast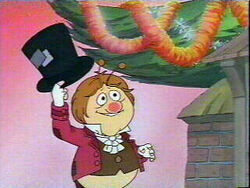 Gallery
External links
Community content is available under
CC-BY-SA
unless otherwise noted.