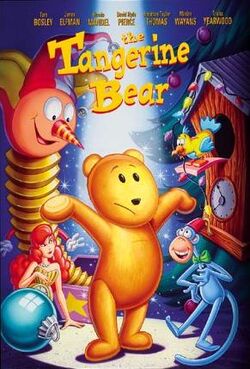 The Tangerine Bear: Home in Time For Christmas! is a 2000 animated film. The voice cast include Tom Bosley, Jenna Elfman, Howie Mandel, David Hyde Pierce, Jonathan Taylor Thomas, and Marlon Wayans. The story was narrated and sung by country singer Trisha Yearwood. It was produced by Family Home Entertainment and Hyperion Pictures.
Synopsis
A teddy bear's mouth is accidentally sewn upside-down at a factory, causing him to look like he's frowning, day in and day out. The cynical, insecure bear ends up untouched during his time at Kroll's Department Store, from which he is finally shipped to an antique store. The store-- Winkle's Emporium-- is home to a group of fellow misfit toys, including a claustrophobic Jack-in-the-Box named Jack, a mermaid clock named Lorelei, and an agoraphobic cuckoo clock named Bird, as well as Mr. Winkle's irritable dog, Virgil. The bear's new and unlikely friends affectionately call him "Tangie", and share some adventures together as they each come to realize that being different can be a positive thing.
Original Songs
All songs is published by On the Way Music (BMI).
Availability
The Tangerine Bear aired a few times in the very early 2000s, but hasn't been on in several years as of 2011. It's most recent airing was on PBS Kids in 2014. It is available on both DVD and VHS.
Cast
Gallery
External links