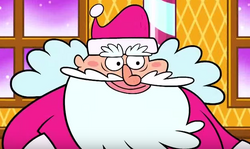 "The True Meaning of Christmas" is the second Christmas-themed episode of the DC Comics-based animated series Teen Titans Go!
Synopsis
It all starts with Robin's alarm clock going off at 8:00am and all the Titans run to the living room expecting presents since the past two years (soon to be three) they have gone without presents and then today to see they haven't gotten any presents again the Titans get suspicious. Then Robin says there was only one way they weren't getting presents... they were on the naughty list! So, taking a cue from Princess Morbucks in The Powerpuff Girls Christmas special, they go to the North Pole and sneak into Santa's workshop and while Raven and Starfire ask a gingerbread man where the naughty list and devour everything in his house. Beast Boy visits Santa's reindeer and ends up upsetting Rudolph by insulting him and he drives away in Santa's sleigh.
Then over in the toy factory, Cyborg gets in with the elves asking where the naughty list is, and makes the leader elf angry but throws another elf under the bus then Jingle and Jangle walks away with the innocent elf, and Cyborg gets away. The next scene shows Robin in Santa's office standing over Santa's naughty list trying to erase their name from the list.
Surprisingly, it doesn't erase as how he expects so he tries rubbing out the Titans name first, then uses white-out and then a mini bomb but eventually gives up and is interrupted by Santa's dog that intentionally barks to get Santa's attention he comes over and scolds Robin and eventually the Titans arrive to confront complaining about how they didn't get their wish for presents for the past three years. Santa tries to tell the Titans that presents are not the true meaning of Christmas, but they blow up his toy factory and make him change his mind. Santa ends up taking the Titans in his sleigh and they help him give all nice and naughty people presents.
Cast
See also
Community content is available under
CC-BY-SA
unless otherwise noted.