"The Usual Santas" is the seventh and final Christmas episode of the FOX drama Melrose Place, aired in the show's seventh and final season.
Synopsis
Lexi, Amanda, and Eve are caught in a bank holdup involving men in Santa Claus suits. They (including Dr. Visconti) plan to play Santa at area elementary schools, but are mistaken for the bank robbers and arrested. They are detained until Lexi, Amanda, and Eve clear up the misunderstanding. Amanda begins to worry about Kyle's drinking. Travis tries to blackmail Eve into sleeping with him, but Kyle pummels him and orders him to leave town. Lexi has an enlightening conversation with Travis, which leads to a fist fight with Eve. Lexi warns Peter that his current and former wives are keeping a secret from him. An eccentric judge orders Michael and Jane to spend the holidays performing community service together. She forgives him, who then has himself delivered to her apartment in a box. Lexi surprises Megan with a catered Christmas dinner, only to find that she has spent the greater part of three days in bed with Ryan. The teen pop group Hanson performs charity concert at the club and Lexi makes an inappropriate remark.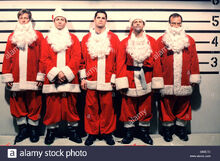 This page about a Christmas special or an episode from a television series with a Christmas theme is a stub. Please help the Christmas Special Wiki by expanding this article.
See also
Community content is available under
CC-BY-SA
unless otherwise noted.