Wiki Targeted (Entertainment)
Play Sound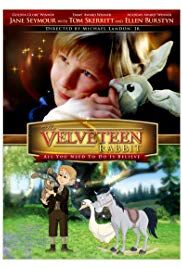 The Velveteen Rabbit (working title: The Forgotten Attic, for the filming of the live-action scenes) is the 2008 Christmas-themed hybrid film, directed by Micheal Landon Jr. (through his Believe Pictures label), inspired by the original 1922 story by Margery Williams, and produced by Feature Films for Families and Cinar. Starring Jane Seymour, Tom Skerritt and Ellen Burstyn, in which they appeared in animation, it is released on February 2009 through the limited theatrical release and on DVD respectively.
The live-action scenes is filmed in Montreal, Canada in 2000, while the animation, thanks to Cinar, is later produced from September 2007 to January 2008. It won the 2009 Kids First! Film Festival Award for Independent Feature.
Music
Music Composed and Produced by Sam Cardon
Conducted by David Sabie
Songs
*For the theatrical version, the latter song is cut, due to Mom's singing wasn't lip-snatched with the lyrics, and it was replaced with the Cardon's instrumental composition.
The demo versions of both songs is heard on the "Deleted & Extended Scenes" section of the Anchor Bay Entertainment DVD release.
Cast
Character(s)
Actor(s)/actress(es)
Type
Mom
Jane Seymour (speaking)
Tanya Barkdull (singing; uncredited;
Extended version only)
Animation
Horse
Tom Skerrit
Swan
Ellen Burstyn
Toby
Matthew Harbour
Live-action
John
Kevin Jubinville
Butler/Harry
Michael Sinelnikoff
Ellen
Una Kay
Neal
Michel Perron
Dr. Kennedy
Walter Massey
Mrs. Tucker
Renée Guerrier
Mrs. Miller
Jane Gilchrist
Mrs. Castle
Frances Stewart
Baseball Boys
Jesse Camacho (Catcher)
Steven Crowder (Player #1)
James Harbour (P2)
Harrison Kreisberg (P3)
Santa Claus
Claude-Henri Breton
Boy (Departing from train)
Jordan Drisdelle
Mother (Waiting for her Son
to come out from the train)
Andrea Sadler
ADR Cast (Animation)
Toby
Max Whitaker
Rabbit
Chandler Wakefield
Additional voice
Wendee Lee
Parents Guide
The FFfF DVD releases has four question that your family to discuss with the film's animated scenes.
When Toby used his imagination to create a landscape, Rabbit asks him how he knew he couldn't do something if he had never tried.
Tell about something you accomplished after you decided to try.
Before the leap, Rabbit said to Toby "Everything that is real was imagined first."
What things in your life were imagined become they become real?
When Toby begins to feel ill after his mother from heaven fades away, Swan said to him its time to stop pretending.
Why do you think it is important to know when to stop pretending?
When Rabbit became real (like in the original story), Swan says that "Loving makes us real."
What does she mean? • Who is loving in your life?
External link