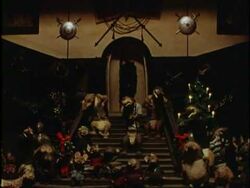 "The Yuletide Entertainment" is the first Christmas episode of Thames ITV/Cosgrove Hall's developed-for-television series The Wind in the Willows, based on the book by writer Kenneth Grahame and illustrator E.H. Shepard.
Summary
This page about a Christmas special or an episode from a television series with a Christmas theme is in need of a longer synopsis. You can help the Christmas Special Wiki by expanding this synopsis.
At the time of the Christmas season, the riverbank residents are organising a fun gathering where they show off their singing, dancing and instrument-playing talents: Otter on the piano; Rat playing accordion and singing Uptails All; Badger's slideshow journey across the world. The pièce de résistance (Toad singing excerpts from Gilbert and Sullivan) suffers a setback when he swallows his fake moustache just before coming on. Mole, who had not intended to appear in the show, is drafted in at the last minute to sing. The episode finishes with a lovely choir song: "Dulce Domum". Sadly, Toad finally manages to cough up his moustache just as the guests are saying their goodnights and Merry Christmas.
Cast
Voice actor
Character(s)
Richard Pearson
Mole
Peter Sallis
Rat
Sit Michael Hordern
Badger
David Jason
Toad
Ian Carmichael
Narrator
Brian Trueman
Delia Corri
Brian Southwood
Kate Lee
Allan Bardsley
Other characters
External link
Community content is available under
CC-BY-SA
unless otherwise noted.