Wiki Targeted (Entertainment)
Play Sound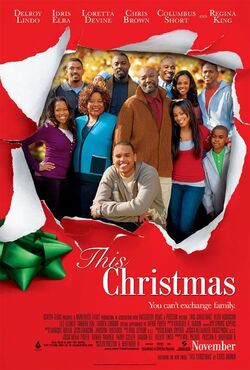 This article is about the 2007 film. For other uses of This Christmas, see the disambig page.
This Christmas is a 2007 comedy-drama film written & directed by Preston A. Whitmore II. It stars Delroy Lindo, Idris Elba, Loretta Devine, Chris Brown, Columbus Short, Regina King, Sharon Leal, Lauren London, Jessica Stroup and Keith Robinson.
Summary
This page about a Christmas special or an episode from a television series with a Christmas theme is in need of a longer synopsis. You can help the Christmas Special Wiki by expanding this synopsis.
This is the story of a solidly middle-class African-American family that reunites for Christmas for the first time in several years. Ma'dere is the Matriarch who's Los Angeles home is where the vast majority of the story takes place. As with any family gathering there are topics that are best not discussed. When they are discussed here they end up in fights -verbal or physical (an excellent sister-on sister catfight stands out here). One sister is encouraging the siblings to sell the family dry cleaning business and split the profits. One brother is running from loan sharks. One brother is AWOL from the Marine Corps and one sister has brought along the man she's dating at a historically black college. Despite what the trailers and TV commercials may lead you to think this is not a warm syrupy comedy. There are dramatic moments, violence and course language. It is however very much a slice-of-life that not enough Hollywood features present. This family, warts and all, is definitely not a Hollywood feel-good film with blackfaces. It is authentic in it's portrayal of themes facing African-Americans in particular, but Americans in general.
Songs
Home video releases
Cast
Actor/actress
Character
Delroy Lindo
Joseph Black
Idris Elba
Quentin Whitfield
Loretta Devine
Ma'Dere Whitfield
Chris Brown
Michael 'Baby' Whitfield
Keith Robinson
Devean Brooks
Laz Alonso
Malcolm Moore
Columbus Short
Claude Whitfield
Sharon Leal
Kelli Whitfield
Lauren London
Melanie 'Mel' Whitfield
Lupe Ontiveros
Rosie
Jessica Stroup
Sandi
Mekhi Phifer
Gerald
Regina King
Lisa Moore
David Banner
Mo
Ricky Harris
Cousin Fred
Ronnie Warner
Dude
Haskell Anderson III
Reverend Caldwell
Ambrosia Kelley
Tori
Javion Francis
Keshon
Amy Hunter
Karen
Stacy Meadows Jr
Troy
Brandon Fobbs
Raynard
Mark Craig
Officer #1
Aviva June
Tree Lot Attendant
Nicholas Harvell
Clerk
Brandon Jackson
El Rey MC
Shelina Wade
Jazz Songstress
Denetria Champ
Gospel Singer
Garry Guerrier
M.P.
Mirtha Michelle
Bartender
Uncredited
Don Abernathy
Churchgoer
Imia Edwards
Club Girl
Pegah Sahebi
Clubgoer
Tatiana Varria
Singer
External links