Three Days is a ABC Family original movie, starring Kristin Davis and Tim Meadows, that is premiered on December 9, 2001 as part of the channel's annual 25 Days of Christmas event.
Synopsis
Andrew and Beth Farmer have been married for 10 years. Andrew is a high powered literary agent, so busy with his work that he often ignores Beth. Also, after 10 years of marriage, he has had some temptations, but hasn't acted on them. A few days before Christmas, Beth is struck by a car and killed as she tries to save her neighbor's dog. Then Andrew realizes how much he had loved her. And makes an anguished wish to get her back again. An angel answers his wish and says Beth will come back to him for three days. But she must die the same way or the balance of heaven and earth will be changed. Andrew is thrilled to have Beth back, he tries to show her how much he loves her, showering her with adoration, and gifts and his time. He finds out she is pregnant and asks the angel how he can save her, but the angel says he can not. Again the night of her death, Beth goes out to save the little dog. And she is about to be struck by the car when Andrew pushes her aside and the car hits him. Now he's in the ICU and Beth is crying when the doctor tells her there isn't much time left. She is by him as his heart stops. But, miraculously, in a few seconds, his heart starts beating again and he survives. He has given her the gift of his life, so both of them are saved!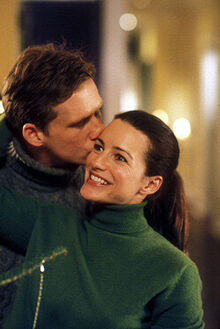 Why did it take Beth's dying for Andrew to realize how special she was to him and how much he loved her? Why do we take each other so for granted? What would we do if we knew this was the last day we would have with each other? Why can't we show our love, even when we've been married for ten years, for twenty years? Why can't we make each other feel like the special, one of a kind, worthy of being loved and adored, valuable people that we are? We waste so much time fighting, arguing, hiding, being afraid. This time will never come back. And unlike in the movie, which is a fantasy, we will not be able to relive days once our beloved ones are gone. And they will not be able to relive any days with us once our life is over. How sad then, that we waste so much time instead of cherishing each other and doing everything we can to make our lives, with whoever we're with, special.
And I think this goes not only for our significant others but all our friends and family!

Cast
Actress/actor
Character(s)
Kristin Davis
Beth Farmer
Reed Diamond
Andrew Farmer
Danielle Brett
Kimberly
Tim Meadows
Lionel
Cedric Smith
Alexa Gilmour
Megan Hopkins
Andrew Bush
Leo Burton
Lee J. Campbell
Stanley Terkleton
David Christoffel
Walter Hopkins
Howard D'Arcy
Santa
Cab Driver
John Dunsworth
Mayor
Martha Irving
Dr. Wilson
Jack Jessop
Isaiah Hanson
Colin Rogers
Tyler Hopkins
John Sayre
Keyboard Player
Anna Wedlock
Michelle Hopkins
Sam White
Zamboni Man
Uncredited
Don Bottomley
Passerby
Eric Lemoine
Ice skater
Nikki Timmons
Background Extra
External links
Community content is available under
CC-BY-SA
unless otherwise noted.