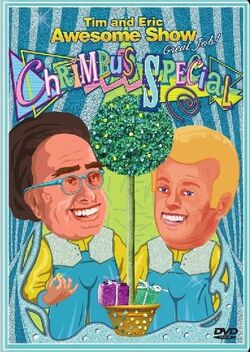 Tim and Eric Awesome Show, Great Job! Chrimbus Special is a Christmas special that premiered in a one-time theatrical engagement on October 22, 2010, before it debuts on Cartoon Network's [adult swim] block on December 5, 2010.
Summary
Tim Heidecker and Eric Wareheim perform in front of a "live" studio audience for their "Chrimbus" special all while advertising their DVD (released by Warner Home Video from Williams Street DVDs) for the same broadcast.
Song
Subject to change
"Chrimbus Song" (uncredited) - Tim Heidecker & Eric Wareheim
Cast
Actor(s)/actress(es)
Character(s)
Tim Heidecker
Himself
Eric Wareheim
Himself
Zach Galifianakis
Tairy Greene
Bob Odenkirk (voice)
Cinco Announcer
John C. Reilly
Dr. Steve Brule
Michael Q. Schmidt
Winter Man
Palmer Scott
Himself
Chuck Spitler
Gary
Carol Kraft
Herself
James Quall
Himself
Ben Hur
Himself
Tanese Gray
Herself
Bob Druwing
Himself
Ron Austar
Pierre
Kaz Magahama
Kaz
Doug Foster
Dun Dorr
Bradley Laise
Dee Vee
David Liebe Hart
Himself
Sire Spicer
Himself
Linda Alznauer
Rudy's Date
Sergio Adolfo
Robert Axelrod
Wayne Baldwin
Bill Buchynski
Michael Carlucci
George Cheng
Harry Elmayan
Dan Galliani
Chris Guckenberger
Don & Pat Jankiewocz
Read MacGuirose
Allen Moffat
Garen Petrossian
Alexander Sibaja
Milen Valtchev
Audience Members
Christien Bastin
Lab Tech
Pamela Cedar
Brad Ekstrand
Kim Hasse
Randee Reicher
Warren Stearns
Alexandria Tyson
Resturant Patrons
Lew Dauber
Doctor
Tami Erin
Pasta Bear Wife
Pat Gaston
Don Pietranczyk
Scott Hislop
Mark Hatfield
Dancers
Alyce Heath
Susan
Bill Jones (voice)
Announcer
Tony Katsaras
Funeral mobster
Christopher Kinney
Sunshine Lee
Dominatrix in Spoof Commercial
Tennessee Luke
Older Dee Vee
Gus Lynch
Doyle
Jay Mawhinney
Rudy
Emile Ngueda
Emile
Dean Norris
Del Tong
Julianna Rose
Jennifer
Bob Ross
Kent
Norma Royston
Paul St. Peter
Piano Player
Barry Stern
Henry Tarlow
Himself
Tracy Weisert
Co-Worker
Sterling Wolfe
Pasta Bear Husband
External link
Community content is available under
CC-BY-SA
unless otherwise noted.