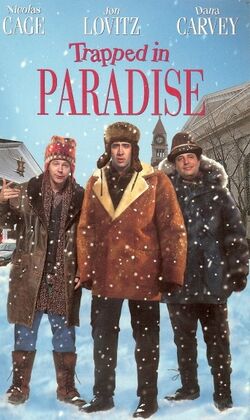 Trapped in Paradise is a 1994 Christmas comedy film, written and directed by George Gallo, and starring Nicolas Cage, Jon Lovitz, and Dana Carvey.
Synopsis
Bill Firpo is getting his life back on track, managing a restaurant in New York. However, just days before Christmas, his two half-wit brothers, Dave and Alvin, get paroled from prison and are placed into his custody. They convinces him to go to Paradise, Pennsylvania to deliver a very important note from a fellow inmate to his daughter. Of course, their hidden agenda is that they know there is a bank in the town that is just ripe to be robbed as the small town is full of trusting people and isn't exactly heavy on security. After some tempting, convincing and enticement, they are able to get Bill, who is wanting to keep straight, to go along with their plan and the three brothers decide to pull off the job.
They brothers don ski-masks and rob the bank, holding a large portion of the small town at gunpoint. Although their heist is not without calamity and mishaps, they get the money and actually get away unscathed and unidentified. However, a huge snowstorm prevents them from getting too far. The stranded brothers soon finds themselves stuck in Paradise and are soon taken in by no less than the president of the bank they had robbed earlier that day. While they pass the time while stuck there, they are besieged with the kindness and spirit of giving of the townsfolk.
After seeing how nice the people of Paradise are, and getting caught up in the spirit of Christmas, the brothers decides to try right their wrong and return the money in a way that would avoid revealing themselves as the robbers.
Songs
Cast
Actor/actress
Character(s)
Nicolas Cage
Bill Firpo
Richard B. Shull
Father Ritter
Jon Lovitz
Dave Firpo
Dana Carvey
Alvin Firpo
Jack Heller
Chief Parole Officer
Mike Steiner
Monty Dealer
Greg Ellwand
Kirk Dunn
Cops
Blanca Jansuzian
Shopkeeper
Florence Stanley
Edna "Ma" Firpo
Jeff Levine
Cherie Ewing
Restaurant patrons
Sandra Myers
Frank Berardino
Diner patrons
Mabel & Sarge
Merlin
Paul Lazar
Deputy Timmy Burnell
Andrew Miller
Deputy Myers
Sean McCann
Chief Bernie Burnell
Gerard Parkes
Father Gorenzel
Madchen Amick
Sarah Collins
Donald Moffat
Clifford Anderson
Frank Blanch
Rutag Guard
John Ashton
Ed Dawson
John Bergantine
Clovis Minor
Angela Paton
Hattie Anderson
Vivian Reis
Lila
Bernard Behrens
Doc Milgrom
Bunty Webb
Hertha Wayerhauser
Kay Hawtrey
Rose Weyerhauser
Vic Manni
Vic Mazzucci
Frank Pesce
Caesar Spinoza
Vic Noto
Crazy Lee
Nicky Pops Anest
Rocco Savastano
George Aggie Anest
Inmates
George Gallo Sr.
Don Vito
Al Cerullo
Helicopter Pilot
Richard McMillan
James W. Evangelatos
Robert Thomas
Agents
Richard Jenkins
Agent Shaddus Peyser
Jonathan Allore
Agent Boyle
Mark Melymick
Agent Cooper
Scott Wickware
Agent Giardello
Sean O'Bryan
Dick Anderson
Zoe Erwin
Marla Anderson
Tripod
Himself
John Dawe
Newscaster
Marcia Bennett
Bus Station Clerk
Brett Miller
State Trooper
Pierre Larocque
Tom McCleary
Truckers
Bill Currie
Bus driver
Marco Kyris
Brian Kaulback
David Farant
Extras
Carson Manning (uncredited)
Prisoner
Michal Page (uncredited)
Girl
External links
20th Century Studios
Television episodes and specials
Animated shows and specials
The Simpsons
"Simpson Christmas" • "Simpsons Roasting on an Open Fire" • "Marge Be Not Proud" • "Miracle on Evergreen Terrace" • "Grift of the Magi" • "Skinner's Sense of Snow" • "She of Little Faith" • "'Tis the Fifteenth Season" • "Simpson Christmas Stories" • "Kill Gil, Volumes I & II" • "The Fight Before Christmas" • "Holidays of Future Passed" • "White Christmas Blues" • "I Won't Be Home for Christmas • "The Nightmare After Krustmas" • "'Tis the 30th Season" • "Bobby, It's Cold Outside" • "The Way of The Dog" • "A Springfield Summer Christmas for Christmas"
King of the Hill
"The Unbearable Blindness of Laying" • "Pretty, Pretty Dresses" • "Hillennium" • "'Twas the Nut Before Christmas" • "The Father, the Son, and J.C." • "Livin' on Reds, Vitamin C and Propane" • "Ms. Wakefield"
Family Guy, American Dad!, and The Cleveland Show
"A Very Special Family Guy Freakin' Christmas" • "The Best Christmas Story Never" • "The Most Adequate Christmas Ever" • "Rapture's Delight" • "A Cleveland Brown Christmas" • "Road to the North Pole" • "For Whom the Sleigh Bell Tolls" • "Murray Christmas" • "Season's Beatings" • "Die Semi-Hard" • "Jesus, Mary and Joseph!" • "'Tis the Cleveland To Be Sorry" • "Minstrel Krampus" • "Christmas Guy" • "Dreaming of a White Porsche Christmas" • "The 2000-Year-Old Virgin" • "How the Griffin Stole Christmas" • "Ninety North, Zero West" • "Don't Be a Dickens At Christmas" • "Santa, Schmanta" • "Christmas is Coming" • "Yule. Tide. Repeat." • "The First No L"
Futurama
"Xmas Story" • "A Tale of Two Santas" • "The Futurama Holiday Spectacular"
Bob's Burgers
"God Rest Ye Merry Gentle-Mannequins" • "Christmas in the Car" • "Father of the Bob" • "Nice-Capades" • "The Last Gingerbread House on the Left" • "The Bleakening" • "Better Off Sled" • "Have Yourself a Maily Linda Christmas" • "Yachty or Nice"
Other cartoons
"Hook's Christmas" • "A Christmas Surprise for Mrs. Stillman" • Olive, the Other Reindeer • Ice Age: A Mammoth Christmas • "The War on Grafelnik" • "Miracle on Culpepper Slims Boulevard"
Community content is available under
CC-BY-SA
unless otherwise noted.