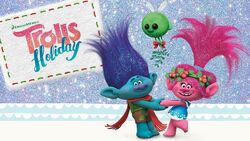 Trolls Holiday is a holiday special spun off from the DreamsWorks Animation movie Trolls, itself based on the children's toys of the same name.
Summary
When the Queen of Trolls, Poppy, finds out that the Bergens do not have holidays (since they stopped celebrating Trollstice), she enlists her friends, Branch and the Snack Pack, to help her bring holidays to the Bergens.
Cast
Anna Kendrick as Poppy
Justin Timberlake as Branch
Christopher Mintz-Plasse as Gristle
Zooey Deschanel as Bridget
James Corden as Biggie
Ron Funches as Cooper
Kunal Nayyar as Guy Diamond
Aino Jawo as Satin
Caroline Hjelt as Chenille
Walt Dohrn as Smidge, Spider and Cloud Guy
Kevin Michael Richardson as Mr. Dinkles
Curtis Stone as Todd
Mike Mitchell as Chad
Availability
The special was released on DVD on November 28, 2017, just four days after its televised premiere. That particular DVD was be reissued on a Holiday Double Feature DVD pack, that was pair up with the 2016 movie Trolls, which was be released on October 2nd, 2018.
Notes
This is not a Christmas special, nor is it based around any particular existing holiday. Instead, it is about the concept of holidays.
Gallery