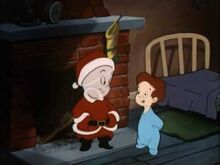 True Boo is a Casper the Friendly Ghost cartoon short originally released by Paramount Pictures on October 24, 1952, and notably the first Christmas production featuring the character. It is remake of the earlier Fleischer Studios short Christmas Comes But Once a Year
Summary
It's Christmas Eve, and what Casper wants for Christmas is a friend. When his uncles steal his note for Santa Claus, he goes out to find one. But whenever he tries, they run away because he's a ghost. When he hears the cries of a boy named Billy, Casper decides to play Santa and make presents for him from the materials in the house. Billy's mother wakes up and evicts Casper/Santa out of the house. Billy cries for him, and his mom wants Casper/Santa back in.
Cast
All uncredited
Voice actor/actress
Character(s)
Jack Mercer
Ghost
Man Carrying Packages
Santa Claus
Mae Questel
Billy
Billy's Mother
Alan Shay
Casper
External links
Copyright 1952 by Harvey Films, Inc. All rights reseved
This page about a Christmas special or an episode from a television series with a Christmas theme is a stub. Please help the Christmas Special Wiki by expanding this article.
Community content is available under
CC-BY-SA
unless otherwise noted.