Sean Herbs, the lover of In Search of SANTA, here!
New Temporary Update (5/11/2019)
The "Angels with Fiflthy Souls" clip from Home Alone is in one of the scenes in Pokémon: Detective Pikachu.
Pages Will be Updation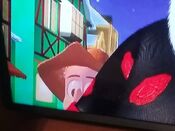 Concept Art: proposed 1999 Production of In Search of Santa (5/14/2018)
Announced in the "NOW IN PRODUCTION" trailer for the proposed 1999 feature production for In Search of Santa on the 1998 U.S. VHS of Rudolph the Red-Nosed Reindeer: The Movie, here's how the prediction should have been before it changed to CGI.
Videos
Community content is available under
CC-BY-SA
unless otherwise noted.