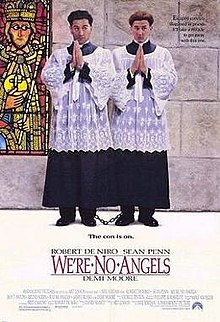 We're No Angels is a 1989 American comedy film directed by Neil Jordan. It stars Robert De Niro, Sean Penn, and Demi Moore. This was Jordan's last film to receive a PG-13 rating by the MPAA, until Ondine in 2009.
Plot
A couple of 1930s Great Depression-era convicts, Ned and Jim, jailed on never-specified charges and abused by a ruthless warden, are dragged along when a vicious killer named Bobby escapes the electric chair.
The two end up in a small upstate New York town near the Canada–US border, where they are mistaken for a pair of priests expected at the local monastery. They want to flee but cannot, since misunderstandings and the warden's search party looking for Bobby make a trip across the bridge to Canada almost impossible.
Ned and Jim continue to masquerade as priests, trusted and welcomed by Father Levesque. An opportunity presents itself in the form of a procession to the church's sister church across the border. Each priest participating has to bring along someone who needs help, so they decide on the deaf-mute daughter of Molly, a local laundress and prostitute.
Bobby is killed by police during the procession. Ned saves Molly's daughter from drowning, after this event she is able to speak. Jim is befriended by a young monk and decides to stay in the monastery to actually become a priest. Ned takes Molly and her daughter to Canada.
Cast
Robert De Niro as Ned
Sean Penn as Jim
Demi Moore as Molly
Hoyt Axton as Father Levesque
Bruno Kirby as Deputy
Ray McAnally as Warden
James Russo as Bobby
Wallace Shawn as Translator
John C. Reilly as Young Monk
Community content is available under
CC-BY-SA
unless otherwise noted.