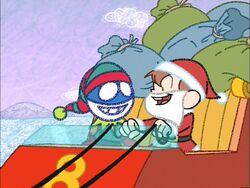 "When Santas Collide" is a special half-hour Christmas episode of the Nickelodeon animated television series ChalkZone.
Synopsis
When Rudy doesn't find the colored pens he wants under his family's Christmas tree, he skips the family Yuletide celebration and goes to the ChalkZone holiday festival where he accidentally endangers Christmas there.
Songs
Availability
The episode was released on the Nick Picks: Holiday DVD in 2006.
Cast
Voice actor
Character
E.G. Daily
Rudy Tabootie
Sleigh voice
Candi Milo
Snap
Hynden Walch
Penny Sanchez
Miriam Flynn
Millie Tabootie
Jess Harnell
Joe Tabootie
General Elvis
Santa #1
Grey DeLisle
Tillie McNilly
Sophie McNilly
Robert Gait
Lieutenant Google Eyes
Phil LaMarr
Santa #3
Mean Santa #1
Santa #6
Joe Lala
Santa #5
Santa #8
Mean Santa #2
Bill Burnett
Santa #2
Santa under sleigh
Robyn Kirmsee
Singer #1
Note: Biclops and Queen Rapsheeba make appearances, but do not have speaking roles.