"When Santas Collide" is a special half-hour Christmas episode of the Nickelodeon animated series ChalkZone, originally broadcast on December 9, 2004.
Synopsis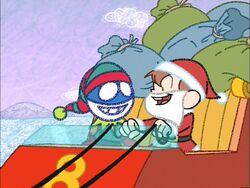 When Rudy doesn't find the colored pens he wants under his family's Christmas tree, he skips the family Yuletide celebration and goes to the ChalkZone holiday festival where he accidentally endangers Christmas there.
Songs
Availability
The episode was made available on the Nick Picks: Holiday DVD, released by Paramount Home Entertainment on September 26, 2006. It was later included on the ChalkZone: The Complete Series manufacture-on-demand DVD set, released on Amazon.com on October 13, 2014.
Cast
Note: Biclops and Queen Rapsheeba make appearances, but do not have speaking roles.
External links