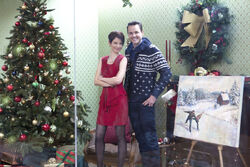 Window Wonderland is a Hallmark Channel original Christmas movie that premiered on November 23, 2013, as part of the channel's fourth annual Countdown to Christmas event. It was directed by Michael M. Scott, who was nominated for a 2014 Leo for Best Directing in a TV movie, and edited by Lisa Binkley, who also got nominated for a 2014 Leo Best Editing.
Summary
McGuire's Department Store has a 95-year tradition of having the best Christmas window displays in New York City. That tradition is in jeopardy this year as its two decade senior designer, Miss T. Jeffers, has quit at the start of the Christmas season, taking most of her design staff to work at a competitor, except Sloan Van Doren, a two year member of the design team, and recent hire Jake Dooley. There is no time to hire an experienced replacement, so Fitch, the store manager, based on an initial assessment of their skills, gives Sloan and Jake each one of the two display windows to decorate for the Christmas season, the displays to be changed once a week, meaning four designs apiece. The one whose windows draw in the most customers to the store will be the new "Miss Jeffers". Sloan and Jake are opposite personalities, with specifically Sloan's opinion of Jake being low, despite neither truly knowing anything of the other. Based on her pretentious sounding name, her ever changing well-appointed business attire, her expensive academic background, the constant telephone calls from her mother that he overhears, and dating snobbish upper crust Wall Streeter Kenneth (not Ken or Kenny) Carlyle, Jake assumes meticulous Sloan grew up in privilege, with lawn parties and country clubs being the norm. Sloan believes slacker Jake has always skated by life on his superficial charms, but she also admits that he is very talented, that natural talent which she wishes she possessed. Despite her outward confidence, Sloan is a bundle of insecurities as she tries to get ahead in the business. As the two compete for the job as Miss Jeffers, they begin to get to know each other beyond the façades, their feelings toward life, the top job and each other affected by their relationships with Kenneth, Mac, the store's window cleaner, and Rita, the brash ladies' room attendant.
Cast
| Actress/actor | Character |
| --- | --- |
| Chyler Leigh | Sloan Van Doren |
| Paul Campbell | Jake Dooley |
| Naomi Judd | Rita Dorentella |
| Terence Kelly | Mac McGuire |
| Matty Finochio | Fitch |
| Cameron Mathison | Kenneth Carlyle |
| Eric Keenleyside | Uncle Jimmy |
| Christie Laing | Megan |
| Tobias Slezak | Cop |
| Daniella Martucci | Sales Associate |
| Matthew Hoglie (uncredited) | Passerby |
External links
Community content is available under
CC-BY-SA
unless otherwise noted.