Wiki Targeted (Entertainment)
Play Sound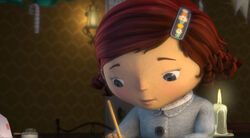 Yes, Virginia is a 2009 CGI animated Christmas television special that premiered on December 11, 2009, on CBS at 8 PM ET/PT. Sponsored by Macy's, it is not to be confused with the 1974 animated special Yes, Virginia, There is a Santa Claus, which first aired on ABC.
The special is based on the 1897 editorial letter written by Virginia O'Hanlon (voiced by Beatrice Miller) to the New York Sun newspaper, and the response by its editor, Francis Church (Alfred Molina). Neil Patrick Harris and Jennifer Love Hewitt play Virginia's parents, Phillip and Laura O'Hanlon.
Availability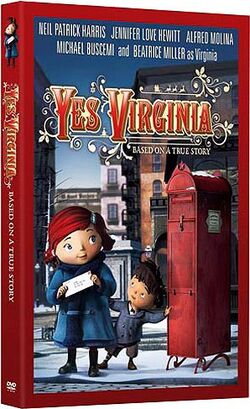 The special was released on DVD on October 26, 2010. In addition, a book version of the story is also for sale at Macy's stores, with 10% of the price (US $9.99 for the DVD and US $16.99 for the book) donated to the Make-A-Wish Foundation. The special has also been released on iTunes.
Macy's promotions
In addition to the book and DVD sales in 2010, Macy's stores featured a window display in major cities - including their flagship New York City store - based on the special. In addition, a Virginia O'Hanlon balloon was featured in the 2010 Macy's Thanksgiving Day Parade.
Voice cast
External links