Yogi Bear is a character who stars in cartoons produced by Hanna-Barbera. Originally introduced as a starring character on The Huckleberry Hound Show in 1958, he is an anthropomorphic bear who lives in Jellystone Park and does not like to conform to the park's rules, rejecting berries in favor of snatching the visitors' picnic baskets. His popularity led to him starring in his own show in 1961, and he has since appeared in many other Hanna-Barbera shows and TV specials.
Being a bear, Yogi normally hibernates during wintertime, but this has not stopped him from starring in at least three Christmas specials, all of which were made long after his original series ended.
Appearances in Christmas specials
Yogi Bear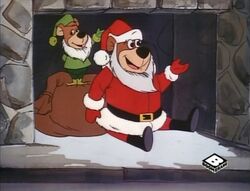 Yogi's first starring role in a Christmas special in chronological order was the 1980 made-for-TV movie Yogi's First Christmas. In it, he and Boo Boo are unexpectedly awakened from their hibernation in the middle of December and, in their attempt to investigate the noise, are made waiters at the Jellystone Lodge. When Yogi finds out that he and Boo Boo awoke in time for Christmas, he decides to stay awake through it so he can experience it, as he has always slept through it before (hence the movie's title). Over the course of the lodge's annual Christmas carnival, Yogi serendipitously pulls off several heroic or astounding feats, despite his constantly drifting off to sleep due to his natural instincts. As a result, he is promoted all the way up to being the lodge's manager for the duration of its Christmas party and is even stated to be made the director for next year's carnival.
In Yogi Bear's All-Star Comedy Christmas Caper, produced two years later, Yogi and Boo Boo sneak out of Jellystone Park to spend Christmas with Huckleberry Hound, Quick Draw McGraw, Snagglepuss, and the rest of their friends in the city (unaware that they was planning to visit them in Jellystone Park). While eluding the city's zookeepers, they meet a young girl named Judy Jones, who feels constantly neglected by her billionaire father. They work to make Christmas merrier for her and, with help from their friends, eventually reunite her with her father.
Other Christmas productions
Before both of his own Christmas specials were made, Yogi also starred in Casper's First Christmas, a crossover with Casper the Friendly Ghost. In it, Yogi and his friends happen upon the rundown house that happens to be the residence of Casper and his friend, Hairy Scary from Casper and the Angels. They decide to spend Christmas there and start decorating the place for it, during which Yogi and Boo Boo cross paths with Casper, whom Yogi thinks is a kid wearing a bedsheet. Later, when Santa Claus visits the house to deliver everyone's presents, he gives Yogi a new hat.
External links
Community content is available under
CC-BY-SA
unless otherwise noted.