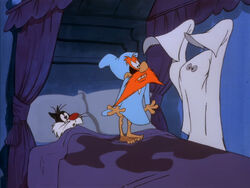 Yosemite Sam is a cartoon character created by Friz Freleng for the Looney Tunes and Merrie Melodies animated shorts produced by Warner Bros. Animation. He is commonly depicted as an extremely grouchy cowboy with a hair-trigger temper and an intense hatred of rabbits, particularly Bugs Bunny.
Appearances in Christmas specials
Edit
External links
Edit
This article about a character from either a Christmas movie, television episodic series or special with a Christmas theme is a stub. Please help to expand this article in the Christmas Specials Wiki.