Jurassic World: Dominion Dominates Fandom Wikis - The Loop
Play Sound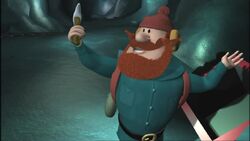 Yukon Cornelius is the tetragonist from the 1964 Rankin/Bass television special Rudolph the Red-Nosed Reindeer. He is an arctic prospector whose sled is pulled by a team of dogs, consisting of a poodle, a Cocker Spaniel, a Saint Bernard, a dachshund, and a collie.
Role in the specials
Yukon meets and befriends Rudolph and Hermey while they are trying to avoid the Abominable Snowmonster. Seemingly searching for valuable minerals at the North Pole, his greedy behavior inspires the song "Silver and Gold", sung by Sam the Snowman. (Yukon was originally going to sing it himself before it was decided that the special should have a narrator.) He accompanies Rudolph and Hermey in their travels to the Island of Misfit Toys and back on a piece of floating ice.
After Rudolph runs away, Yukon and Hermey spend months looking for him. Upon arriving in Christmastown, Sam the Snowman informs them about Rudolph's plight against the Abominable Snowmonster, and they rush to the cave to go save him and his family.
Yukon is a blustery but very benign character, being the first adult figure that Rudolph and Hermey encounter who does not shun Rudolph for his shiny nose or Hermey for wanting to be a dentist. He ends up helping not only them, but later the Abominable Snowmonster, or "Bumble" as he refers to him, as well. However, this comes after he tries fighting the now-toothless Bumble, eventually causing Bumble, along with himself and his sled dogs, to tumble over a cliff. Fortunately, they survive this thanks to Bumble being able to bounce, which Yukon knew about. Afterward, Yukon brings Bumble to Santa's workshop, saying that he's reformed the creature, who now wants a job as an interior decorator.
Throughout the special, Yukon is shown tossing his pick axe into the air, sniffing, and then licking the end that contacts the snow or ice, most of the time saying afterward in disappointment, "Nothing." The audience is led to believe that he is searching for either silver or gold, but it turns out that he is actually seeking peppermint, as revealed at the end of the original version of the special, in which he discovers a "peppermint mine" near Santa's workshop through that method. This indicates that he too is a misfit in the same way as Rudolph and Hermey. However, this punchline was removed from subsequent telecasts starting in 1965, which left audiences assuming that he was attempting to find either silver or gold by taste alone. The scene was restored to the special in 1998 and has appeared in most of its video releases since then, as well as in Freeform's broadcasts, but remains cut from CBS' annual airings.
Yukon oddly didn't reappear in Rudolph's Shiny New Year or Rudolph and Frosty's Christmas in July, but he did return for Rudolph the Red-Nosed Reindeer and the Island of Misfit Toys. This direct-to-video special finds him, having dug out all the peppermint in the aforementioned peppermint mine, joining Rudolph and his friends to stop the Toy Taker. Near the end of the movie, after they have caught the Toy Taker, Yukon serendipitously finds that, ironically, there is silver and gold hidden in his peppermint mine.
Gallery
External links